A 10 Hit Combo  (10連コンボ Jūren Konbo) is a generic move that is available to almost all characters throughout the Tekken series. Most characters have their own unique 10 Hit Combo, while others have multiple unique 10 Hit Combos. A 10 Hit Combo is not an attack as such, more a sequence of attacks, each requiring a button input. As each attack is a separate move, there are opportunities for the player or opponent to block, escape or counter a 10 Hit Combo, but if all 10 hits connect, significant damage can be dealt. 10 Hit Combos can be difficult to execute, as many require fast and accurate button inputs, while missing a cue in the command chain will break the combo, leaving the player vulnerable to counterattack.
Practice Mode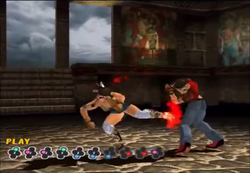 Practice Mode
offers players the opportunity to practice 10 Hit Combos. After selecting a 10 Hit Combo from the 'Display' options on the pause screen, the command input will be displayed on screen. A chime will sound to indicate a button input, and a button icon will light up to indicate a correct button entry, allowing players to practice performing the combo while perfecting the timing of their button presses. Pressing 'Select' while in this mode will prompt the computer to execute the combo automatically, providing a visual demonstration of how to perform the combo, while the chiming sounds will offer an audible cue as to when each command is to be entered.
Ad blocker interference detected!
Wikia is a free-to-use site that makes money from advertising. We have a modified experience for viewers using ad blockers

Wikia is not accessible if you've made further modifications. Remove the custom ad blocker rule(s) and the page will load as expected.