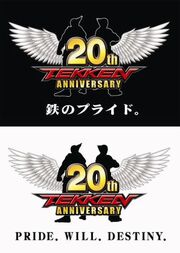 Year 2014 was the 20th Anniversary of Tekken. In an 2014 interview, Katsuhiro Harada and Michael Murray stated that the Tekken Team "has something in the works" for the year. This page will eventually become an article regarding all of the events to come.
Events
2014
July
Tekken 7 is announced by Harada on July 13, during EVO (Evolution Championship Series). The trailer and a new logo for the series are shown.
Along with the confirmed development of Tekken X Street Fighter, an extended launch trailer, character design details, and other info regarding Tekken 7 was revealed at Namco's San Diego Comic-Con fighting panel on July 25th.
October
Tekken 7 has a arcade version test in Japan on October 3rd, 4th, and 5th.