Asuka Kazama is a fair-skinned, beautiful Japanese teenaged girl with brown eyes, brown hair with bangs on the right side of her head, and speaks in a kansai accent, she has worn different outfits in every game she appears in.
Asuka makes her debut appearance in Tekken 5 and she has four outfits in the game. Her hair is short and dark brown in a side parted hairstyle with bangs at the left side of her head and brown eyes.
Player 1 outfit:
She wears a white short sleeved traditional Japanese shirt with black flower design at the left side of her top, black hakama with a white triangle design in side of her hakama with red linings and black, red and white in-step protectors. She also wears matching gray and white fingerless gloves with red and black knuckle guards and a white headband tied around her forehead. The outfit that she wears is her traditional Aikido uniform. In Tekken 5: Dark Resurrection, the color of her hakama is now red instead of black as her top of her outfit is retained. Both her fingerless gloves and in-step protectors became black and green and the knuckle guards are pink.
Player 2 outfit:
She wears a light blue collared, sleeveless zip-up jumpsuit (with black side paneling and black swallow design on the back) which is unzipped down to her torso, exposing her blue sports bra underneath. The jumpsuit is adorned with a black, two-pronged belt with green stars. On her feet, she is wearing black, blue and purple armored boots with three green stars around the cuff over dark blue and light blue ribbed, striped socks. She also wears elbow-length armored blue, light blue and gray sleeve-like gauntlets with puffy, black banded, white cuffs above her white fingerless gloves. She also equipped herself with blue knuckle guards, elbow guards as well as leg guards. This is her primary outfit throughout the series. In Dark Resurrection, this color scheme is changed to red and black.
Player 3 outfit:
Her third outfit is her notable appearance in every game as well as her endings in later games (though it is first seen in her prologue), is her school uniform.
She wears a yellow, sleeveless sweater with a "gakuen" emblem on her sweater over a white short sleeved, collared shirt, blue and black plaid skirt, navy blue socks and brown dress shoes. She also wears cyan, purple and white fingerless gloves with a swallow emblem in each knuckle. This outfit is later available in Tekken 5: Dark Resurrection.
Player 4 outfit:
Her fourth outfit has her wearing a black traditional Japanese dress with a spider web design which she wears half of its sleeves, she also has bandages on her neck and chest to cover her breasts, a dark pink obi which is tucked into her dress and a black laced ribbon tied at the side of her dress and red sandals. She also has a tattoo on her left leg with a word 通天閣 (Tsūtenkaku) written on her inner thigh.
Player 1 outfit:
Her Tekken 5 Player 1 outfit remains unchanged with the exception of the hakama now being purple instead of black.
Player 2 outfit:
(See Tekken 5 Player 2 outfit)
Player 3 outfit:
Asuka wears a lacy edged pink tank top under a vibrant yellow, fuzzy sleeveless tunic with orange "v"-shaped stripes with a red tartan short skirt over bright nylon orange stockings and black knee-high, shiny pointy toed boots. She also wears a fluffy, light orange scarf with oversized poms which hang down by her thighs.
Asuka can be customized in her school uniform and other modern outfits, consisting of checkered tops, white and black striped shirts along with a black sleeveless top, hooded vests, leather jackets, jersey tank tops, denim skirts, hipster jeans, heeled shoes and leather boots.
Her other customization outfit replacing her geisha outfit is her Matsuri Festival outfit. which she wears a green traditional festival vest with red cords attached on her vest, with a strapless red bra underneath, white sarashi shorts and red and black knee-high open toed sandals. It also has different colors to customize this outfit in either both flower or fish outfits. Her other outfit is a traditional Japanese top with the sleeves only on the left, traditional pants and boots. She also wears matching gauntlets and shoulder pads.
Player 1 outfit:
(See Tekken 5 Player 2 outfit)
Swap Costume: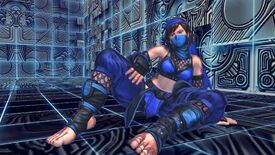 Asuka's swap costume is based on Ibuki and she wears a blue ninja bra top with a black high-neck mesh top to cover her cleavage. blue traditional ninja dogi pants with mesh linings at the edge of her pants and blue gray and cyan steel in-step protectors on her feet. She also wears a blue bandanna on her head and a sky blue mask that conceals the half of her face and wears mesh warmers and a matching blue gray and cyan traditional ninja gloves.
Alternate Costume:
Asuka now wears a purple traditional Japanese military uniform and her jacket is covered from her shoulders. She wears a white strapless bra with a purple corset attached on her bra, purple traditional military pants with yellow flower designs and a black belt to her waist and black and gray steeled boots which have blue ribbons attached. She also wears a traditional Japanese headband on her forehead.
Player 1 outfit:
(See Tekken 5 Player 2 outfit)
Player 2 outfit: (See Tekken 5: Dark Resurrection Player 2 outfit)
Asuka gains more customization outfits than her previous customizations in Tekken 6 as her modern clothes consist of sleeveless tops, short sleeved button dresses, button shirts, mini skirts, pants, denim short shorts and boots, shoes and high heels. Her school uniform customization is also retained (she also wears it in her and Lili's arcade endings.)
Her Swimsuit DLC is shown in the trailer along with her rival, Lili, and she wears a yellow and cyan bikini top and purple board shorts with cyan linings and pink flats. Her swimsuit DLC is also shared with Leo to make her much feminine than being masculine from her primary outfit. Her swimsuit DLC can also choose in three different colors and designs.
Player 1 outfit:
(See Tekken 5 Player 2 outfit)
In Tekken 7: Fated Retribution during Akuma's reveal trailer, Asuka wears a new main outfit is a combination between her primary outfit and her school uniform in Tekken 5.
She wears a light khaki short sleeve openly loose button shirt with two black linings at the center of her button shirt. She has a blue swallow design at the left side of her shirt and a matching light khaki long folded sleeves on her puffy short sleeves with black linings, underneath is a red strapless bra top, black folded design denim short shorts with brown suspenders in each side of her waist and gray, black and red armored boots with a single star design at the cuffs. She also wears a dark blue fingerless gloves with black and white strap in two small stars design in each sides and four white studs at the front of her fingerless gloves.
During the location test gameplay and her CGI official art, Asuka's new main outfit has a minor color change as her loose button shirt is now white instead of light khaki and the lower part of her button shirt is shown to be pleated during the fight, her folded design denim short shorts are now blue with faded designs and her strapless bra top is now shown as a tube top.
Player 1 outfit:
(See Tekken 5 Player 1 outfit) (2-Star)
Unlockables:
Her Player 1 outfit in Tekken 5 but her traditional Japanese shirt and hakama is recolored to medium blue and dark blue and her headband is medium blue. (1-Star)
(See Tekken 5 Player 2 outfit) (3-Star)
(See Tekken 7: Fated Retribution Player 1 outfit) (4-Star)