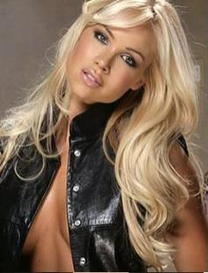 Candice Hillebrand (also known as Candîce) is a South African born actress and singer-songwriter who portrayed Nina Williams in the 2010 live-action Tekken film. Hillebrand is best known as Ingrid in Blood Of Beasts and released her debut album, Chasing Your Tomorrows with the hit single Hello.
Acting Career
Hillebrand's on screen career started early in life; she started hosting South African children's television channel, KTV, from the age of 6. Hillebrand went on to appear in numerous commercials and has acted in both TV and film. In 2002, she signed with Musketeer Records and released her debut album, Chasing Your Tomorrows in 2003. She has also appeared in Maxim magazine.
In 2008, Hillebrand was offered the role of Nina Williams, a character in the film adaptation of the popular video game series, Tekken.
Gallery
Trivia
She is an Ambassador to the Sole of Africa campaign, which primarily deals with the problem of landmines and returning the land back to the people in Africa (November 2006).
Ad blocker interference detected!
Wikia is a free-to-use site that makes money from advertising. We have a modified experience for viewers using ad blockers

Wikia is not accessible if you've made further modifications. Remove the custom ad blocker rule(s) and the page will load as expected.