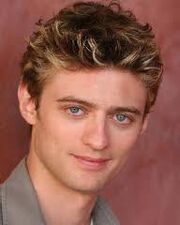 Crispin Freeman is an American voice actor who voiced Bruce Irvin in Tekken 5. He voiced Edgar Grant in Death by Degrees as well.
Trivia
Frequently does voice overs for various union and non-union voice production companies for some video games and mostly animes.
Is one of the only English-speaking voice actors to voice the same character of all the Xenosaga video games.

Crispin was the only voice actor to provide the English voice of Albedo and Gaignun Kukai of the series.
Fluent in English and Spanish.
Has a younger brother, Clark Freeman, and a younger sister, Cassidy Freeman.
Graduated from Williams College with a B.A. in theater & a minor in computer science.
Graduated from Columbia University with an M.F.A. in acting.
He and Veronica Taylor both came to the anime Slayers series as replacements; he replaced Daniel Cronin as Zelgadis and she replaced Joan Baker as Amelia.

Crispin stated that he was a little nervous about taking on the role of Zelgadis in Slayers because the character had already been voiced by someone else. When it came to reinterpreting the character, he said he thought that Zelgadis had "more of an axe to grind".
On August 11, 2007, he married Izobel Carol on "The Big Island" of Hawaii.
External links
Ad blocker interference detected!
Wikia is a free-to-use site that makes money from advertising. We have a modified experience for viewers using ad blockers

Wikia is not accessible if you've made further modifications. Remove the custom ad blocker rule(s) and the page will load as expected.