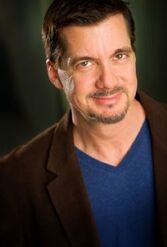 DC Douglas is an American actor, writer and voice actor. He voiced Raven in Tekken 6, Tekken Tag Tournament 2 and Street Fighter X Tekken (along with Eddy in the latter).
Trivia
He also provided additional voices such as dialogue segments in Tekken 5, though his role was uncredited.
His grandmother, Grace Hathaway was a burlesque dancer in the 40s and early 50s. She also performed in the waning days of Vaudeville with his grandfather, Joe Miller.
His grandfather, Joe Miller, became a local legend in San Francisco for his weekly spiritual walks through Golden Gate Park and his work with the Theosophical Society. Great Song: The Life and Teachings of Joe Miller was published after his death.
His mother, Betty Malicoat, is an artist in Central California.
Considers Earl Boen his first mentor when he performed in Earl and Carole Kean's murder mystery company in the mid-80s.
Appeared on Win, Lose or Draw (1987) with Ned Beatty and Martin Sheen, he lost.
Was the face mask worn by the alien "Jennings" in the FedEx Superbowl Commercial (2004).
Publicly battled tea party PAC FreedomWorks over their tactics during the health care debate of 2010.
External Links
Ad blocker interference detected!
Wikia is a free-to-use site that makes money from advertising. We have a modified experience for viewers using ad blockers

Wikia is not accessible if you've made further modifications. Remove the custom ad blocker rule(s) and the page will load as expected.