Devil Within (Mode)
Comments

0
1,112pages on
this wiki
Devil Within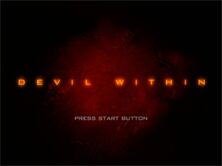 is an action adventure mini-game bundled with
Tekken 5
.
The storyline revolves around Jin Kazama and his devil form, Devil Jin. It is similar to the Tekken Force modes in Tekken 3 and 4, but unlike them, Devil Within does not allow the player to select their desired character and it has a story line to accompany the fighting, which the "Tekken Force" modes lacked.
It is not known if Devil Within is canon or not, but it's stated in Jin's prologue that he sets out on a journey with destiny as his only guide to end the evil that was plaguing him. It can be concluded that Jin's journey was the Devil Within story line. Jin is also the only character in Tekken 5 who's prologue didn't state that he entered the King of Iron Fist Tournament 5.
Jin has heard that his mother, Jun Kazama, may be alive. However, he does not find her anywhere. Instead, Jin confronts his worst nightmare, True Ogre, again. True Ogre will reveal another form after being defeated for the second time, Monstrous Ogre (this Ogre has a slightly different skin tone, it is more yellow then green and is much bigger). Jin must defeat this form, as well.