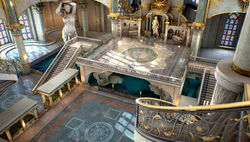 Duomo di Sirio ("Cathedral of Sirius" in Italian) is a stage in the home release versions of Tekken 7. A grand hall in European stylings that serves as the headquarters of Claudio Serafino's organization, the "Archers of Sirius". Ornate statues adorn the walls and the floor is a polished marble. The battle starts atop the upper deck and the barrier opposite the goddess statue can be broken to take the fight down the lower level.
Trivia
Originally the stage had a different main and climax theme (the main theme being the same theme used for Nina Williams's Fated Retribution trailer) but this was changed following the preview build that included Eddy Gordo and Kuma/Panda. The original main theme is still within the PlayStation 4's "Tekken Jukebox" soundtrack under the name "Hideaway 2nd".
This is the stage where Heihachi Mishima fought against Claudio Serafino in The Mishima Saga.
Videos
Ad blocker interference detected!
Wikia is a free-to-use site that makes money from advertising. We have a modified experience for viewers using ad blockers

Wikia is not accessible if you've made further modifications. Remove the custom ad blocker rule(s) and the page will load as expected.