Feng Wei (馮威 Féng Wēi) is a fictional Chinese character from the Tekken franchise of fighting games.
As a boy, Feng Wei was raised as a disciple by a Kenpo master who was so skilled he was known as Shinken (神拳, literally God Fist). At 20 years of age, Feng was the best student his school had ever seen. When his master scolded him for fighting outside the dojo, Feng killed him. Now Feng seeks the secrets of the God Fist scrolls stolen by the Mishima family, and enters the King of Iron Fist Tournament 5 to do so. Asuka Kazama and Lei Wulong have connections with this ruthless, merciless Kenpo fighter. Feng severely beat Asuka's father and destroyed his dojo in his search for the scrolls. Lei is trying to capture Feng for his similar actions in China.
He manages to retrieve the God Fist scroll in the King of Iron Fist Tournament 5, and after reading and studying the vague scroll, he is seen practicing his new powers, and manages to destroy an entire mountain in a single strike.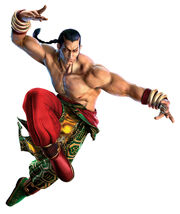 Feng Wei was successful in retrieving the treasured "God Fist" scroll from the Mishima Zaibatsu during The King of Iron Fist Tournament 5. The scroll merely stated, "Destroyer of all styles, the one true ultimate style, it transcends the power of The Dragon God, which exceeds all human ability." Dumbfounded, Feng Wei receives information about The King of Iron Fist Tournament 6, and, seeking more information, he once again looks towards Japan.
In his ending, Feng Wei is standing on top of an active volcano when a large molten fire comes up for the volcano, towards him. After seeing it, Feng Wei simply punches it, cooling the rock and scattering molten rock all around him and he opens his eyes and became to look normal.
Feng returns in Tekken Tag Tournament 2 as a playable character. He keeps his moveset from Tekken 6, with a few new moves added in. His item move is a flying nimbus cloud that allows him to fly when tagged out.
Ending: Feng is seen training in his dojo, with a few bowls of sake on his arms, head and knees. Asuka Kazama comes in, requesting a challenge to get her dojo's sign back. Feng ignores her, and Asuka attacks him, but he manages to dodge her attacks and even retaliate easily, sending Asuka flying. After she recovers, she stomps the ground, and the bowls Feng was holding break apart. The scene cuts to Asuka about to leave with her sign, until she bumps into Feng and falls down. She notices Feng slowly walking towards her, noticeably angry, and screams as the movie ends.
Tekken Tag II Special Alliance Partners
Character Relationships
Edit
Due to his appearance and fighting style, Feng's design may be based on Retsu Kaioh from the manga/anime series Grappler Baki.
In Tekken 5, Feng Wei can be customized to look like Guan Yu from the game Dynasty Warriors.
Feng Wei is based on Jet Li, a famous martial artist and actor.

Many of Feng's Stances or Pose are similar to the ones Jet Li used in his movies.

Feng is similar and has been compared to Gato (from SNK's Fatal Fury series and King of Fighters series), who also fights with Chinese Kenpo (although in a different way).

Addionally, Gato's design is also based on Retsu Kaioh from Grappler Baki.

In Tekken 6, Feng Wei can be customized to look like Lu Bu from the game Dynasty Warriors and Sun Wukong, AKA The Monkey King (It has his Circlet, and his Ruyi Jingu Bang), Kilik from the Soul Calibur series (also because of the Ruyi Jingu Bang, and both are monks), and Vega from Street Fighter.
See Feng Wei/Gallery