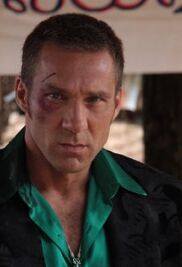 Gary Daniels is a British kickboxer, martial artist, and martial arts actor who portrayed Bryan Fury in the 2010 live-action Tekken film and Tekken: Kazuya's Revenge. Daniels is best known as Kenshiro in the 1995 Fist of the North Star film and MacDonald's main henchman in City Hunter starring Jackie Chan and Richard Norton.
Action film star Gary Daniels was a real-life kick-boxing champion. With rugged good-looks, a muscular build and a charming personality, it was a natural for him to move from the world of fighting to that of acting.
His ring fame helped land him small roles in the hit television series, Miami Vice. Daniels later traveled to the Philippines to make martial arts films. From there, Gary went into mainstream film-making; acting in over 45 movies, as well as producing some of his own motion pictures.
Gary Daniels reportedly made a comeback in Thailand at the age of 45, but after losing a decision, he decided to end any future thoughts of fighting.
Trivia
WKBA Kickboxing Champion in California. Former PKA (Professional Karate Association) fighter.
Started his fight career in England and then traveled to the United States.
In his first U.S. match on March 4, 1980 in Coconut Grove, Florida, Daniels defeated Sherman 'Big Train' Bergman of Miami at the Sunshine State Tournament.
Daniels fought in Florida and California.
Compiled a kick-boxing record of 22-5-0 with 21 victories by knockout.
Won the Light Heavyweight Kickboxing Championship of the World.
Trained in the United States by Winston Omega.
Started kick-boxing at age 17 and was trained by Micky Birne.
Fought in Tae Kwon Do tournaments in England, being disqualified 3 times for knocking out his opponents.
At the age of 16, Daniels earned a first degree black belt in Tae Kwon Do.
Studied Ninjitsu for a time under Mark Russo.
Named his third son "Kenshiro" after his role in "Fist of the North Star" (1995).
Ad blocker interference detected!
Wikia is a free-to-use site that makes money from advertising. We have a modified experience for viewers using ad blockers

Wikia is not accessible if you've made further modifications. Remove the custom ad blocker rule(s) and the page will load as expected.