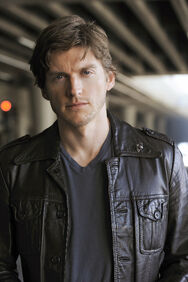 Gideon Emery is an English voice actor, who voices Steve Fox in Tekken 6, Street Fighter X Tekken and Tekken Tag Tournament 2.
Trivia
Winner of the first Gold Craft Award for Voice-Over at South Africa's prestigious Loerie Awards for advertising. (2003)
Won the National Vita Award for Comedy for his performance as "Maloom" in the stage play "Heel Against the Head". (South Africa, 1995)
Holds an honors degree in dramatic art from the University of the Witwatersrand, Johannesburg.
Climbed Mount Kilimanjaro in 1998.
Shares the same birthday with actor Jason Statham.
External links