Gon (ゴン, Gon?) is a licensed guest character appearing only in Tekken 3. He is unlockable by defeating him in the Tekken Ball mode or by achieving a high score in Survival mode and inputting the name "GON".
He is one of the two special hidden playable characters, along with Dr. Bosconovitch. His appearance seems purely ornamental, considering no motive is given for him participating in the third King of Iron Fist Tournament.
History
Manga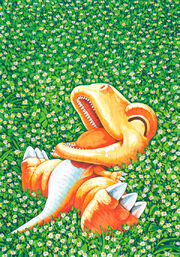 Gon is the protagonist of the manga series of the same name created by Masashi Tanaka. He is a small dinosaur that bullies animals that are paleolithic.
Masashi Tanaka (Gon's creator) has stated once: "This work contains no dialog or onomatopoetic words. People always ask me why I have done this. From the beginning, I didn't think it was necessary. Manga should be without grammar. I also think that it is strange to give animals human language and make them talk. What I set out to do with Gon was to draw something that was more interesting than anything you could say in words. Manga still has great potential that does not exist in other media. I plan to continue developing the art of expression".
Gon's adventures are usually comedic with environmental connotations. There is very little continuity within the series, with Gon appearing in different countries and interacting with their respective fauna in almost every issue. He is often portrayed as being a short-tempered yet good-hearted creature, offering his help to the various animal friends he encounters in each issue.
The English edition of the manga was originally published by Manderin Publishing (UK, 1994) and Paradox Press (USA, 1996).
Other media
Gon made his first video game appearance in his own Super Nintendo platform game simply known as "Gon", the game was developed by Tose and released in Japan by Bandai in 1994.
The latest platformer game, Gon: Baku Baku Baku Baku Adventure, was developed by Namco Bandai for the Nintendo 3DS and was released in Japan on June 14, 2012.
Anime
A 50-episode CGI anime premiered in April 2012. It focuses on Gon and other animal characters, and features voice acting, unlike the original manga. A more kid-friendly manga and a video game will accompany this new series, though the original manga will still be continued.
Gameplay
This section is currently incomplete. You can help the Tekken Wiki by expanding it.
Trivia
General:
According to Katsuhiro Harada, Gon will not appear in any future Tekken games because of license issues, this is heavily noticed when he was requested for Tekken Tag Tournament 2 by fans and in Harada's Twitter.
Gon's ending is the only ending in Tekken 3 that goes in a continuous loop, and must be manually interrupted by pressing the Start button.
Gon's alternate costume in Tekken 3 shows him with a turtle shell and blue gloves (the turtle shell being a reference to the time when Gon decided to wear a turtle shell that he found in the manga from which he originates). His mother was also a turtle.
Just like in the manga from which he originates, Gon does not speak.
Gon is the only character in Tekken 3 who is barely affected by True Ogre's fire blast as it only does one damage point to him.
Gon only has one win animation.
Contrary to the laws of science, his 'Gon With The Wind' fart attack does not get set on fire by True Ogre's fire blast.
In the anime adaptation of Gon, Gon is voiced by Motoko Kumai, known for voicing characters such as Syaoran Li on Cardcaptor Sakura, Spike in the Japanese version of My Little Pony: Friendship is Magic, Chocolove McDonell on Shaman King, and Taro Yamada on Chinyūki: Tarō to Yukai Nakama-tachi/J-Stars Victory Vs.
Gon makes a cameo appearance in the group picture in Tekken 3 (Comic), along with Tiger Jackson and Doctor Geppetto Bosconovitch.
Gon is the first licensed character in the Tekken franchise. The others being Akuma and Geese Howard in Tekken 7: Fated Retribution.
Gallery
Moves
References
See also
Ad blocker interference detected!
Wikia is a free-to-use site that makes money from advertising. We have a modified experience for viewers using ad blockers

Wikia is not accessible if you've made further modifications. Remove the custom ad blocker rule(s) and the page will load as expected.