Hall of Judgement is a multi-tier stage in both Tekken Tag Tournament 2 and Tekken Revolution set in Nara, Japan. The first level is situated as a large Japanese arena with Buddha heads on both sides in the background. Below the breakable floor is a desolate lair containing statues of demonic creatures. The stage itself serves as the setting of the first of four boss battles where players face off Heihachi and Jinpachi in Arcade mode.
Background Music
The stage BGM is called "Jin Kazama -Far East Mix-".
Tekken Revolution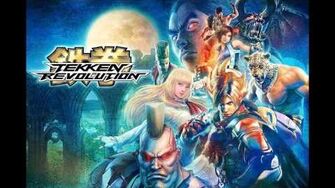 Gallery
Trivia
The stage BGM is the remixed version of Tekken 3's Tiger Dojo Tokyo theme added with some instrumentals and choirs.

The choirs can be heard saying "Majin" ( Majin is Japanese for devil, demon, genie, etc. ).
Ad blocker interference detected!
Wikia is a free-to-use site that makes money from advertising. We have a modified experience for viewers using ad blockers

Wikia is not accessible if you've made further modifications. Remove the custom ad blocker rule(s) and the page will load as expected.