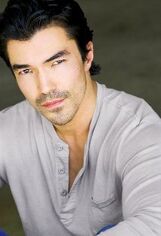 Ian Anthony Dale is an American actor who portrayed Kazuya Mishima in the 2010 live-action Tekken film. Dale's best known as Fukuda in Mr. 3000 starring Bernie Mac and as Detective Christopher Choi in the TV series Day Break.
Trivia
External Links
Ad blocker interference detected!
Wikia is a free-to-use site that makes money from advertising. We have a modified experience for viewers using ad blockers

Wikia is not accessible if you've made further modifications. Remove the custom ad blocker rule(s) and the page will load as expected.