Jinpachi Mishima
Comment

1
1,112pages on
this wiki
Jinpachi Mishima (三島 仁八, Mishima Jinpachi) is a fictional character in the Tekken series. He is the main antagonist of Tekken 5. He is the father of Heihachi Mishima, and he is the founder and the former head of the Mishima Zaibatsu.
Jinpachi is also notable for being the very first unplayable boss in the series. Though he was made fully playable in the Playstation 3 version of Tekken 5: Dark Resurrection and he is also playable in Tekken Tag Tournament 2. 
Jinpachi is the father of Heihachi Mishima and the founder of the Mishima Zaibatsu. Unlike most of the Mishimas,  Jinpachi is an honorable fighter with a strong sense of wisdom. He is friends with Wang Jinrei. However, Jinpachi's life takes a turn for the worse when the greedy Heihachi stages a coup d'etat and steals the company from him. Jinpachi attempts to retake the company when Heihachi enters the military industry, but fails and is imprisoned underneath a Mishima compound, Honmaru. Sometime later, he dies of starvation, until he is resurrected by a mysterious entity.  
Having been taken over by a vengeful spirit and granted incredible supernatural powers, Jinpachi breaks out of Honmaru when the compound is destroyed during a battle between Heihachi, Kazuya and an army of Jack-4s sent to kill Heihachi. With the news of Heihachi's apparent demise, Jinpachi takes over the company from behind the scenes and organizes the King of Iron Fist Tournament 5 in the hopes that someone will free him before the spirit takes him over completely (to the point that he writes to Wang, asking him to compete and put an end to the Mishima bloodline which has been cursed by Heihachi's greedy ambitions).
In the tournament final, Jinpachi is confronted by his great-grandson, Jin Kazama, who defeats him and puts him to rest at last.
Ending Description: Jinpachi laments that nobody was able to defeat him, and transforms into a much more demonic form as the spirit takes him over completely. This ending is only shown when the player loses to Jinpachi and decides not to continue.
Other media
Edit
Jinpachi appeared in Tekken Tag Tournament 2 as a playable character.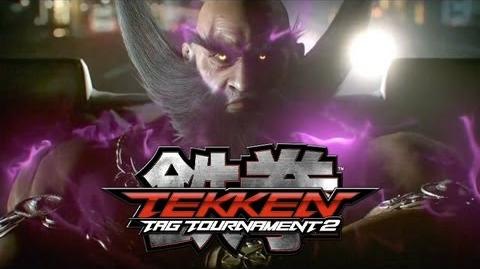 Ending Description: Jinpachi is seen inside Heihachi's estate. He finally finds Heihachi in a room and is jealous and angry that Heihachi had betrayed him, but Heihachi just remarks that Jinpachi was back from the depths of hell. Jinpachi focusing his chi on Heihachi, who seems to have little difficulty in standing it off. Jinpachi decides to increase the amount of power and defeats Heihachi (likely survived) and setting his room on fire.
Character Relationships
Edit
Despite first appearing in Tekken 5, Jinpachi did not become a playable character until the Playstation 3 port of Tekken 5: Dark Resurrection.
Jinpachi was close to his grandson Kazuya, when the latter was a child. This is possibly another reason Heihachi resented Jinpachi so much.
Jinpachi's appearance (mostly his moustache) closely resembles Whitebeard a.k.a Edward Newgate from the manga and anime series One Piece.
Jinpachi's appearance (mostly his necklace, bracelet and cloak pants) also resembles Broly the Legendary Super Saiyan from Dragon Ball Z.
Jinpachi, like Lars Alexandersson, is the only Mishima who is unable to use the Crouch Dash motion (f,n,d,d/f). However, he has the Thunder God Fist (1+2+3+4,1 in DR, d+3+4,1 in TTT2) and the Electric Wind God Fist (1+2+3+4,2 in DR, d+3+4,2 in TTT2) abilities. Jinpachi also has the option of the regular Wind God Fist (d/f+2).
Unlike most Mishimas (who were ruthless amd power hungry), Jinpachi was a man of honor and wisdom as he showed compassion to his  grandson Kazuya and was friends with Wang Jinrei. In his Tekken 5 ending, realizing no one could stop him, he shed tears as the evil spirit that possed him grew more powerful.
Tekken Tag Tournament 2
Jinpachi's in-game voice is still the same from before, although some of his animations have been revamped such as the projectile is no longer from his stomach, now utilized an original Hadouken alike projectile. It might be possible that Jinpachi is now a demi-god in the game.
If he is victorious in a fight with anyone close to him (e.g. Heihachi, Wang etc) he has his own special winpose.

For example, if you play as Jinpachi and Heihachi with Jinpachi as the main character in the Arcade and lose the battle, at the "Continue Countdown" you will see Jinpachi slapping Heihachi in the butt like father and child, reminiscent of what Heihachi does to Lee Chaolan.
See Jinpachi Mishima