Jun Kazama (風間 準, Kazama Jun) is a character in the Tekken series who first made her debut in Tekken 2. She is the former lover of Kazuya Mishima and the mother of Jin Kazama. Jun was assumed to have been killed in Ogre's wrath when he awoke, but her official status is "missing". Ogre has some of her moves like her "Windmill Kick." Jun is one of a small group of characters who have only appeared in one canon game. In Tekken Tag Tournament 2 Jun transforms into Unknown, the final boss.
Prologue (Manual)
Jun is an officer of the WWWC, a wildlife protection organization. She is highly spiritual and can sense a mysterious power surrounding Kazuya. Besides her duty to arrest Kazuya, who smuggles protected animals, she wants to free Kazuya of his evil power during the tournament.
She has taught and trained Jin her Kazama self-defense fighting style. Years later, Jun sensed the approaching of great evil and told Jin that if anything should happen to her, that he should seek out his grandfather, Heihachi Mishima.
Jun's words proved to be prophetic, and some time after Jin's 15th birthday, Ogre did indeed attack. Jun screamed for Jin to run away, but Jin wished to protect his beloved mother and prepared to fight Ogre in order to save Jun. Ogre, however, was too much of a match for Jin and knocked him unconscious. What happened next is unknown, but by the time Jin woke up, the Kazama house was burnt to the ground and Jun was missing. Jin desperately searched for her, but she was nowhere to be found or seen. Jin assumed that Jun was dead and swore revenge on Ogre.
She has appeared in a cameo opening along with Kazuya Mishima in Tekken 3. In the opening, Jin is seen and Ogre is shown in the darkness holding something. It is usually interpreted as either the top of a temple pillar or a head with long hair. It is rumored and speculated that it was Jun's severed head, although it wasn't confirmed. It's most likely that this was a vision of Jin, thinking that this is what happened to his mother, since Jin did not see the fight between Jun and Ogre.
A vision of Jun appears in Jin's ending.
Jun is seen and mentioned numerous times during the prologue for the Scenario Campaign Mode for Tekken 6, in which Jin, Kazuya, and Heihachi re-tell the main events of the previous Tekken games. In this prologue, Kazuya Mishima describes how he met Jun. He also describes how he found her fearless and mysterious. Jin Kazama then describes how much he misses his mother and still wishes that she were still with him. He then goes on to explain that he defeated Ogre in the honor of Jun.
Jun is one of the central main characters in Tekken: The Motion Picture. As a child, Jun witnessed Kazuya Mishima being thrown off of a cliff by his father, Heihachi Mishima. She climbed down the cliff to try and save Kazuya but was unable to find him. She was haunted by this experience all through her childhood and into her adulthood. In the present day, Jun is an officer of the WWWC, a wildlife protection organization. She is highly psychic and can sense a mysterious power surrounding Kazuya (who is revealed to have survived the fall from the cliff).
She is teamed up with police officer Lei Wulong and their assignment is to investigate the Mishima Conglomerate's genetic engineering of bio-weapons, but she is constantly drawn to Kazuya; she can't let him give in to his hatred and kill his father, Heihachi. After many confrontations, Jun discovers that Kazuya is possessed by the Devil but is able to convince Kazuya to spare the life of Heihachi. The story jumps to the future to show that Jun is living a peaceful and happy life with her son, Jin Kazama. However, she is able to sense something strange in the air (most likely Ogre). She promises Jin that everything will be alright and the two leave together hand in hand.
Jun appeared as a playable character in Tekken Tag Tournament.
Jun in Devil's Ending: Jun is lying unconscious on the ground in Unknown's stage. Devil leans over her body and picks her up into his arms and flies away, where he takes her is unknown.
Tekken Tag Special Alliance Partners
Jun Kazama appeared in the live-action Tekken movie. In this version she was a single parent of Jin Kazama and died from an explosion sent by Kazuya Mishima's jack hammer forces. Unlike in the game, she was sexually assaulted by Kazuya Mishima which is how she gave birth to her son Jin Kazama. Jun is portrayed by actress Tamlyn Tomita.
Jun returns in Tekken Tag Tournament 2. She has an entirely new stance and moves that seperate her from Asuka Kazama, though she still retains her White Heron Dance / Blizzard Combo and other moves of the Kazama Style of fighting.
Jun also appears in the game's intro, watching the fight from a distance. Lili spots her and tries to analyze her, only to be caught and telekinetically have her binoculars destroyed.
Jun appears after Ogre's defeat in Arcade and Time Attack mode where she emerges from a white bright light, ready to fight. After defeat, Jun will transform into the game's final boss, Unknown. The wolf spirit is nowhere to be seen.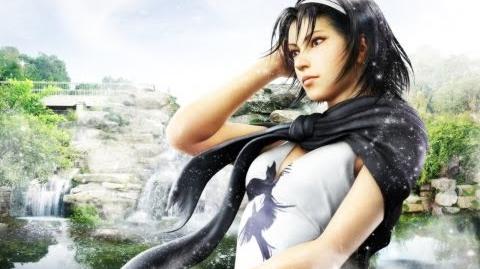 Ending: Jun walks into the middle of a dark forest, where she begins to glow a white aura. As she does, the spirits of woodland creatures gather towards her and encircle her. They embrace her and she turns into a ball of white energy and shoots into the sky, creating many stars.

Tekken Tag II Special Alliance Partners
Character Relationships
Edit
The kanji for "Jun" means "pure" in Japanese.
Jun's costume 'theme' seems to be white. This may be a reference to the universal symbol of good and purity.
Jun used "Morning Fields Osaka" as her stage.
There is speculation to whether or not the intimate meeting between Kazuya and Jun was consensual or that their meeting was simply an act of fate.
The Tekken 6 artbook revealed that Unknown was meant to be Jun's sister but the idea was dropped as a main story element when the game became non-canonical.
Jun was considered for Tekken 3 as her portrait, voice and some moves can be found in the arcade version of the game through hacking. They were removed from the home port.
Jun has the ability to "repress" the Devil gene in her son, Jin, with a single touch (As seen in her Tag Tournament ending). Asuka Kazama who is known to be related to her also has the same ability, but the young woman hasn't realized her strange power yet.
Jun, at 5' 7", is the second tallest female fighter in Tekken.
In Tekken 5: Dark Resurrection, Asuka Kazama's hair can be customized to look like Jun's.
Jun's title of "Chosen One" has made her special even amongst other Kazamas, as stated in her Tekken 2 profile.
Asuka has a 'less-than-pure' behaviour, while Jun was peace-loving and mostly pacifistic, Asuka is usually eager to get into a fight.
Jun's voice was also used for Final Fantasy X character Yuna in the fan-made series Dead Fantasy.
Jun would be 41 during Tekken 3, 43 during Tekken 4 and 5, and 44 in Tekken 6 as if she appeared in those games, making her arguably the eldest female playable human character in the Tekken series; Jun may be in a tie with Nina Williams, who is chronologically 44 years as well, though physically 25.
Jun is the only character who had changed stances more than once. In Tekken Tag Tournament, she had her arms almost aligned (the stance Asuka has now). In Tekken Tag Tournament 2, her stance is somewhat similar to Jin Kazama's and Bob's stances in Tekken 5 and Tekken 6 CGs, respectively.
In Tekken 6's Scenario Campaign, Alisa stated that a sibling of Jun's has opened the "Kazama-Style Traditional Martial Arts" dojo in Asuka's stage. It's unclear and unknown what she meant, however.
Jun's ending is similar to Angel's ending.
Unknown always starts with her moveset.
Jun's current voice actress is Mamiko Noto.
Jun is the final boss of the game, coming through a beam of shining light after the battle with True Ogre. Her level is a unique heavenly level of white and pastel colors, and she has enhanced health due to her being the only one you are fighting. When you beat her on the first round, she kneels on her knees with her head down, just to pick her head up and reveal her eye color changing to yellow revealed to be Unknown. The following battle is between you and your partner with a reimagined Unknown, using the level's purple ooze alike shadow to perform vicious moves, one even able to bring a player to all red health and tag them out forcefully. When defeated, several wolf spirits part from her body and she collapses, sinking into the purple ooze of the level with a smile.
She now has her own attacks (and some of Asuka's moves). Now returning in Tekken Tag Tournament 2, her fighting style strongly resembles that of her would-be half-brother-in-law, Lars Alexandersson.