Jun appears to have medium length black hair with a full fringe, brown eyes, fair-skin and is very beautiful. She is mostly seen wearing her iconic white headband. In Tekken: The Motion Picture, she has brown hair.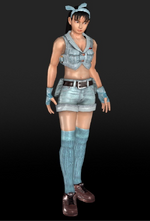 Player 1 outfit:
Jun wears a pale blue sleeveless buttoned midriff with two pockets, one on each side, short pale blue shorts with a black belt around her waist, pale blue knee-high socks and brown shoes. She also has a blue ribbon on her head and wears pale blue finger-less gloves. This is the outfit that she wears as her WWWC attire.
In her in-game appearances, her outfit becomes white rather than pale blue and her brown shoes appear as black flats to match her Player 2 outfit, but have no tie.
In Tekken: The Motion Picture, the color of her WWWC attire is brown instead of pale blue and her socks are now short. Her ribbon is replaced with a pale yellow headband.
Player 2 outfit:
Jun wears her most iconic outfit, a white sleeveless collared top with six parallel buttons down the front, black capris with yellow two sided buttons, and black flat shoes with white socks. She now wears her iconic white headband. In her in-game appearance, she wears this outfit and gains a pair of white finger-less gloves as an addition.
In Tekken: The Motion Picture, her collared top becomes a midriff when she wears this outfit.
Player 1 outfit:
(See Tekken 2 Player 1 outfit)
Player 2 outfit:
(See Tekken 2 Player 2 outfit)
Player 3 outfit: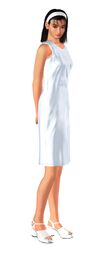 Jun now wears a dark green short sleeved karate gi with wind logos on each of the sleeves and a black karate belt around her waist, matching karate shorts, black kneepads on her knees, white short socks and dark blue and black sneakers. She also has black warmers along with fingerless gloves and black knuckle guards. She also wears has a white short headband on her head, with the Kazama's crest on the center of the headband.
Her headband, arm warmers and knuckle guards are later adapted into both of Asuka's default outfits in Tekken 5.
In the arcade opening and her CGI in Tekken Tag Tournament, she wears a white sleeveless gown and white heeled sandals. She retains her white headband from her primary outfit in Tekken 2. This outfit is later shown in her son's Tekken 4 ending where she was shown as a spirit to stop her son from killing his grandfather.
Jun's appearance becomes updated and her long fringes are similar to her son Jin's, while her white headband now has black linings.
Player 1 outfit:
Jun now wears a white sleeveless bustier top with a black crow design at the center and a black scarf with gold designs at the right side of her scarf which covers both of her shoulders, white pants with black crow designs on the left pant leg and a brown belt around her waist and white and black toed sandals.
In her alternate appearance, her primary outfit has minor changes. Her sleeveless bustier top becomes a white one-piece suit and her sandals are replaced with black boots with a single brown thigh high sock on her right leg, but retaining the black scarf on her shoulders and the brown belt to her waist.
Player 2 outfit
Her primary outfit is recolored in black and red similar to Jin's primary outfit in Tekken 6 and her scarf is now white.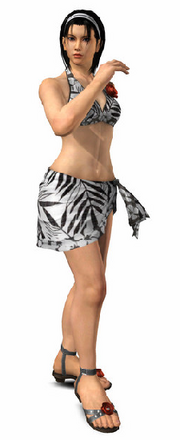 Her customizations are based on her previous outfits in both Tekken 2 and Tekken Tag Tournament, along with a pale blue dress with a white cotton jacket, jeans, her updated white dress, which shows her cleavage and a silver necklace around her neck, and other outfits modernized to her age which are shirts, skirts, shorts, and leather jackets.
Her swimsuit DLC has her wearing a white bikini top with black vine designs and a rose at the right side of her chest, a matching white sarong with black vine designs and white sandals.
Ad blocker interference detected!
Wikia is a free-to-use site that makes money from advertising. We have a modified experience for viewers using ad blockers

Wikia is not accessible if you've made further modifications. Remove the custom ad blocker rule(s) and the page will load as expected.