The character King I was introduced in the first game until Tekken 2 while King II was introduced in Tekken 3 and returned in every subsequent games after taking King I's place. His teacher, Armor King I which appeared in the first games of the series trained King before Tekken 3. King is mostly known to be an incognito wrestler wearing a jaguar mask just like his master and predecessor.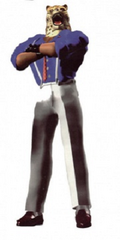 Player 1 oufit:
King I is shirtless and wears a black wrestling trunks on top of blue tights with a matching black elbow pads, gray wristbands and kneepads and black wrestling boots.
Player 2 outfit:
He now wears a dark blue long sleeved button shirt with a red and white checkered neck tie on his collar, white suspenders with a matching pants and black dress shoes. He was shown to be barehanded instead of wearing gloves.
This outfit is also seen from his ending where he won third place while being gathered by several happy children.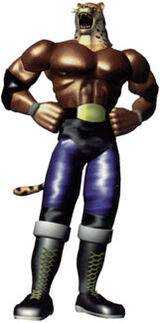 Player 1 outfit:
(See Tekken Player 1 outfit)
His primary outfit remains the same as he gains black gloves with white nine dots and a yellow design on both sides of his tights.
Player 2 outfit:
(See Tekken Player 2 outfit)
His button shirt has now folded into short sleeves and his shoes are now brown. He also retains his black gloves from his primary outfit.
In both arcade and console opening he was seen in this outfit but without the mask and his face wasn't shown before Armor King I gives his jaguar mask. In his ending he gains a brown trench coat.
King I has been replaced with his successor King II a street urchin from the orphanage has been seriously trained by Armor King I.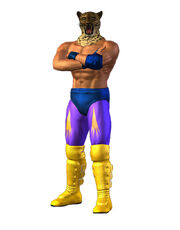 Player 1 outfit:
King II is also shirtless and wears a blue wrestling trunks with purple wrestling tights with a yellow design in each leg. He also wears a blue fingerless gloves, a matching blue armband and wristband and a golden knee-high wrestling boots. He also has a jaguar tail on the back.
In the arcade and console opening, he wears this outfit with a white long cape which has been removed during the scene. Before wearing the outfit King II is seen wearing black shorts, white socks and black sneakers where he's been trained by Armor King I and he was seen without his jaguar mask and his face is not shown during the scene.
Player 2 outfit:
He wears a blue gray short sleeved shirt, bluish black sweat pants with a gray jaguar design around his waist and sides and white and black sneakers. He also wears a white and black wristbands in both of his wrist and wears a black jaguar mask (similar to Armor King's). The kanji at the back of King II's shirt reads as "Mishima Industries" (black) and "Evil" (red).
King retains both Player 1 and 2 outfits.
His Player 3 outfit the color of his trunks are now cyan and he was not seen wearing wrestling tights in Tekken 3 and his wrestling boots are now black with light yellow and cyan linings.
His Player 4 outfit. The colour of his shirt is now orange and his sweat pants are now red.
For the first time since Tekken 3, King II's long black hair has shown beneath his jaguar mask.
Player 1 outfit:
King II has a new outfit similar to Tekken Tag Tournament. He now wears a turquoise blue wrestling trunks with a sign "KING: Anger of Beast" imprinted at the centre of his trunks and a jaguar linings in each sides of his trunks, and turquoise blue knee-high wrestling boots with magenta and black linings. He also wears a turquoise blue and purple wrestling gloves and has a jaguar bracelet on his left wrist with white wraps. King II also gains a jaguar tail which is hanging loose at the back of his trunks.
Player 2 outfit
King II wears a light blue cowboy jacket, white pants with a black belt to his waist, and brownish gray shoes. He also wears a white fingerless gloves and a blue poncho design on his jacket and a white collar. This outfit is later seen in his ending.
He also wears this outfit in the crossover game, Namco X Capcom and his prologue in Tekken 6.
King II's black hair has now cut shorter and it was not seen ever since Tekken 4.

Player 1 outfit:
King II wears an updated version of his primary outfit in Tekken 3 as his blue trunks now have a gold outline on his waist and retains the imprinted sign at the centre of his trunks in Tekken 4, new emblems on his wrestling tights which is colored in dark blue. He also gains a yellow band on his left arm and gains another elbow band on the right to make it pair and a purple and blue pad with a yellow pad wrapped on his left bicep. He also wears yellow knee-high wrestling boots with cyan linings. On the back of the boots, "MEXICO" is engraved. Underneath the boots is a sky blue paw mark in each sole of his boots as seen in Armor King II's ending. In the updated version, the color of his primary outfit is changed to black, with black wrestling tights and black boots.
Player 2 outfit:
King II now wears a black hooded priest coat with thick white linings on front with golden outlines. Black trousers with golden outlines and black shoes. He also wears black fingerless gloves. This outfit he wears is based on a Sherwani, an Indian outfit worn by Indian men. In the updated version, the colour of his priest coat is dark blue and his trousers and gloves are now white but retains his black shoes from his original outfit.
He also wears this outfit in Armor King II, himself and Craig Marduk's interconnected endings in Tekken 6.
King II regains his Player 1 and 2 outfits to it's original colors. As his outfits remain unchanged whatsoever.
Player 3 outfit:
In this outfit, King's tights, boots, and arm guards are all black with red linings and with a red paw on his boot soles. He also wears a black T-shirt with a flaming "TAPOUT" logo
Player 1 outfit:
(See Tekken 5 Player 1 outfit)
Swap Costume:
King II's Swap Costume is based on Alex and the first time to have a notable change on his jaguar mask with red and yellow jaguar mask with a furry brown design at the back of his mask. He gains a red face paint on his shoulders and arms and wears a green overhauled jumpers pants and green combat boots. He also gains green fingerless gloves.
Alternate Costume:
King II's jaguar mask is now a black panther mask with red glowing eyes. He wears a ripped gray shirt with a large glowing snake on his neck, red wrestling tights with a black belt and a glowing buckle and gray boots. He also wears gray fingerless gloves.
Tekken Tag Tournament 2
Player 1 outfit:
(See Tekken 5 Player 1 outfit)
Player 2 outfit:
In this outfit, King wears black leather pants and a black leather jacket with a gold design on the back. He also wears black leather boots.
Player 1 outfit:
King II's primary outfit has minor changes. His blue wrestling trunks are now gold and the imprinted sign is now cyan, his wrestling tights are now blue and the emblems are white and retains his yellow knee-high wrestling boots but with blue and white straps and a matching yellow armbands and wristbands with white straps and cyan outlines.
In Tekken 7: Fated Retribution during Akuma's trailer, King II gains his white cape from the console opening in Tekken 3 but with jaguar designs as an addition to his new main outfit.
Ad blocker interference detected!
Wikia is a free-to-use site that makes money from advertising. We have a modified experience for viewers using ad blockers

Wikia is not accessible if you've made further modifications. Remove the custom ad blocker rule(s) and the page will load as expected.