Kuma I appears as a large brown grizzly bear. In Tekken 3 and onwards, Kuma I was replaced by Kuma II after its death from old age as its brown fur appears darker.
Player 1 outfit:
Kuma I's fur appears as light brown but in his in-game it was its normal color brown and has two white fur that resembles two necklace in a curl design.
Player 2 outfit:
Kuma I's fur becomes white making him resemble a polar bear and its claws are red.
Player 1 outfit:
(See Tekken Player 1 outfit)
In his in-game, Kuma no longer have the white fur in a curl designs and appears as a regular grizzly bear. But in his Tekken 2 ending along with his master Heihachi, Kuma's brown fur becomes darker.
Player 2 outfit:
(See Tekken Player 2 outfit)
The red claws are now changed to white to match his fur.
Kuma I is later replaced by his cub, Kuma II after it died from old age. This introduces a pallet swap between both him as the first player and Panda is the second much like both Roger and Alex in Tekken 2 until Tekken 5.
Player 1 outfit:
Kuma resembles Kuma I because of their grizzly in appearance and only wears accessories such as the red bandanna on his neck and a black bell bracelet on its left arm. He also wears this in his shared ending with Panda.
In Tekken Tag Tournament 2, he maintains his outfit in Tekken 3 as his bandanna on his neck now have designs on them and his black bell bracelet is now on his left leg.
Player 1 outfit:
Kuma retains his outfit from Tekken 3, although the bracelet on his arm is now colored red to match his bandana and the bells from his bell bracelet are replaced with spikes.
Player 2 outfit:
The same as his Player 1 outfit, but his fur becomes white, giving him the appearance of a polar bear, and his accessories are recolored blue.
Player 1 outfit:
For the first time, Kuma wears only a red short sleeve shirt with a black skull design at the back of his shirt and red and white sneakers.
This outfit is also seen in his ending trying to stamp all of the documents Heihachi gave him except the last document where Heihachi wants to reclaim the Zaibatsu for himself where Kuma outsmarts him by stamping his face with its bear paw mark.
Player 1 outfit:
In Tekken 5, Kuma appears identical to his father Kuma I as his fur is dark brown. In Tekken 5: Dark Resurrection, Kuma's fur becomes white.
In Panda's ending, Kuma wears a red bow tie and white folded sleeves and carries a bouquet of flowers before Panda switches the button to make Kuma fall into the trap door.
Player 1 outfit:
(See Tekken 5 Player 1 outfit)
Some of his customizations has him wearing his master Heihachi's Player 2 outfit, and casual clothes such as shirts, jeans and sneakers and a ballerina costume. He is also to be customized to have a scar on his face.
In his boss stage at the Scenario Campaign mode as well as Roger Jr.'s boss stage, It has a miniatures of Kuma when it was fought by the player of his or her choosing and Alisa.
Player 1 outfit:
(See Tekken 3 Player 1 outfit)
Kuma retains his appearance in Tekken 3 but without the black bell bracelet.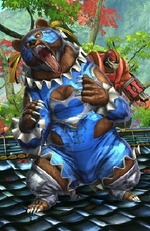 Swap Costume:
Kuma's Swap Costume is based on R. Mika as he wears a blue and white wrestling suit with blue heart design and white shins. He also wears a blue wrestling mask with yellow ribbons in each sides.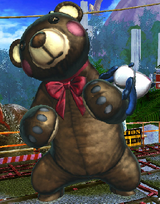 Alternate Costume:
His alternate costume is a comical version of Kuma who poses as a stuff toy or a plush with pink blush on his cheeks and a red ribbon on his neck. Kuma also had a miniature doll version of Panda where he keeps it on his left arm.
In his ending with Heihachi when they gained the Pandora's Box, Kuma reverts into a cub instead of his master, Heihachi who wanted to gain his youthful self much to his frustration.
Player 1 outfit:
(See Tekken 3 Player 1 outfit)
As mentioned above, his black bell bracelet is now on his left leg and his red bandanna on his neck now have designs.
Kuma was mentioned by Forest Law in Paul's ending where he mistakes the sleeping bear as Kuma before he throws the rock on its head. Therefore after Paul knocks the bear with his Burning Fist, the bear's mother strongly resembles Kuma as well as the scar on her face which is also resembles one of the customized outfits Kuma uses in the game who angrily tries to take Forest, Marshall and Paul down after the former defeated her cub.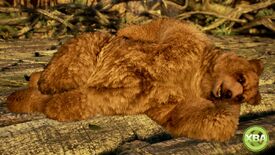 Player 1 outfit:
Kuma's new main outfit appears as a customized suit of armor and his pants are based off his previous customization in Tekken 6. In this outfit, Kuma now works with the Tekken Force under his master Heihachi and one of his win animations imitates Lars' win animation when using his cellphone.
He wears a black customized armor suit with black wristbands with a matching straps, and gray and black military pants with a nylon utility belt. He also wears a black helmet with a flashlight at the left side of his neck and the eyes from his helmet are light red.
In both his prologue and his ending Kuma is not seen without his helmet when he interrogates Josie Rizal who is afraid of him during her training course in the jungle at her home country in the Philippines. But in Josie's ending, he was seen without his customized armor suit when he barely tries to give one of Josie's earrings to her which it was missing during the fight.
Ad blocker interference detected!
Wikia is a free-to-use site that makes money from advertising. We have a modified experience for viewers using ad blockers

Wikia is not accessible if you've made further modifications. Remove the custom ad blocker rule(s) and the page will load as expected.