Lars Alexandersson
Comments

2
1,112pages on
this wiki
Lars Alexandersson (ラース・アレクサンダーソン, Rāsu Arekusandāson) is a fictional character of the Tekken series. He is 28 years old and was first introduced in Tekken 6. He is the main protagonist of the Scenario Campaign mode, along with Alisa Bosconovitch. Lars' tagline is "The one who betrayed his own in order to build a new era".
Personality
Edit
Lars has a heroic personality as he lead the coup d'etat into defeating the Mishima Zaibatsu, he has the fighting spirit and determination of his half-nephew, Jin Kazama. He also has the charisma of his adopted brother Lee Chaolan, but is the complete opposite to Heihachi and Kazuya, being much like Jun Kazama in terms of personality. He strongly resembles Jin Kazama at times. Lars's actions and surroundings fit the mold of an archetypical hero.
Lars's personality ranges from calm to angry at various moments, and his words and actions are that of a soldier. As Lars's point is to defeat Jin and declare peace, he is somewhat a second hero after Jin.
Physical Appearance
Edit
Lars is very muscular and toned, as evidenced by his large biceps, visible abs, and pectoral muscles. He has sandy brown hair that is spiked up vertically.
His first outfit consists of a red and black armored suit, along with a black cape and a metal emblem of a lion on his chest. His second outfit consists of brown shoes, white pants, a dark gray jacket with a large white design on the top part, an extended collar, and red gloves.
As the Mishima Zaibatsu waged war on the world, G Corporation, led by Kazuya Mishima, rose from titanic to power and was their main opposition, leading to worldwide conflict. Meanwhile the Zaibatsu's former Tekken Force soldiers began a coup d'etat against the Mishima Zaibatsu. The mastermind behind this coup d'etat was Lars Alexandersson, a young and charismatic Tekken Force officer with incredible physical ability and intellect. Most importantly, he is the illegitimate son of Heihachi Mishima, and with the exception of Lars, no one, not even Heihachi, is aware of this piece of information.
Scenario Campaign
Edit
See Tekken 6: Bloodline Rebellion's Plot.
Other Media
Edit
Lars appear as a playable character in Street Fighter X Tekken (as a default in the PlayStation Vita version and as a DLC in console versions), his partner is Alisa Bosconovitch.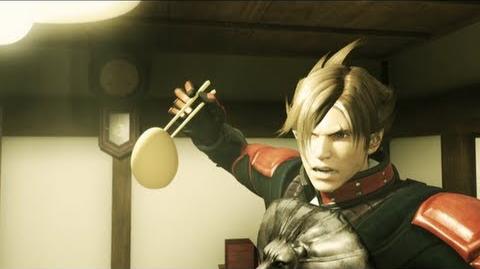 Lars appears as a playable character in Tekken Tag Tournament 2.
Ending Description: Lars, Kazuya, Jin, Heihachi, Jun and Asuka are sitting around a table for dinner. Unfortunaly, Lars doesn't get anything to eat as the others consume most of it (even the egg which was thrown into the air). After they finished, he tries to have some seaweed only to have it sucked it away by Heihachi. However, it is all but a dream, though Lars asks his men if they brought anything to eat as his stomach growls.
Jinpachi Mishima
Heihachi Mishima
Raven
Alisa Bosconovitch
Kazuya Mishima
Jin Kazama
Jun Kazama
Lee Chaolan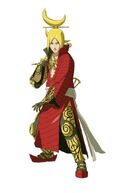 Lars is a bonus playable character in Naruto Shippuden: Ultimate Ninja Storm 2. He wears clothes designed for him by Masashi Kishimoto, which are also used in Bloodline Rebellion. Unlike other characters, he will speak in Japanese even if the English setting is on. Instead of throwing shurikens and using nature transformations, Lars uses special firearms with shuriken ammo as projectiles. His Jutsu is his "Zeus" uppercut and his Ultimate Jutsu being his ten-hit combo. His Awakening Mode is Tekken 6's Rage Mode, complete with red trails.
His background story in the game is left unknown.
Ghost Data
Edit
Name
Rank
Blood9
4th Kyu
+++Iron J+++
Berserker
Abarenbo-General
Vindicator
Kombo Master
Destroyer
Karipap
Sage
Blood Stealers
Raksasa Mengganas


Lord K11Ller

AZRI HAFIFI

Surenos-Miri

With 1083 win and 94 lose

Tekken Lord

Tekken Bitch

Tekken Supreme God
Name and Surname
Edit
Lars is derived from the Roman/Latin name "Laurentius", which means "from Laurentum" or "crowned with laurel".
Alexandersson is a surname derived of two parts; from the name "Alexander" (meaning "Defender of Mankind") and the Scandinavian suffix "sson" (meaning "son of"). Alexandersson meaning "Son of the Defender of Mankind."
Character Relationships
Edit
A vast majority of Lars' moves are named after military terms or terms used in the field of electronics and electromagnetism. His fighting style hasn't been confirmed by Namco.
He shares some physical similarities with Siegfried Schtauffen, a character and main protagonist of the Soul Calibur series, another fighting game series by Namco. Lars also bears an uncanny resemblance to Patroklos Alexander, the new protagonist of Soul Calibur V.

Lars and Patroklos also have similar roles of new protagonists, replacing Jin and Siegfried, respectively.
Interesting enough, even Lars' and Patroklos' respective surnames are almost similar to each other.

Lars also bears similarities with Alex from the Street Fighter series (specifically, from the Street Fighter III games).

Both are military-themed or military-inspired characters.
Both Lars and Alex replace Jin and Ryu respectively as new protagonists.
Both are the first non-Japanese (in Lars' case, half-Japanese) characters to become main protagonists of their series.
Both Lars and Alex serve as sharp contrasts to the previous protagonists in terms of personalities. While Jin and Ryu are both calm and indifferent, Lars and Alex are bold and emotional.

The name of the rebel army that Lars leads is called Yggdrasil. In Norse mythology, it is an immense tree that is central in Norse cosmology, in connection to which the nine worlds exist.
Despite being Swedish, Lars speaks English and/or Japanese in all movie sequences making him one of the few Tekken characters to not speak their native language. It could be explained in-universe by the fact that he is a high-ranking officer in a mostly Japanese organization, so he could have learned Japanese as part of his training.
Some of Lars' quotes are:

"There's no way you can stop me" (a win animation where he rubs his right hand across the lion emblem on his chest).
"Roger, I'll be there soon" (a win animation where he's talking into his mobile phone).
"You really think you can stop me?".
"I think you should move out of the way".
"Damn. One after another...".
"Get out from my way!".
"You look like, you know a thing or two".

Lars' cellphone appears to be an unknown Sony Ericsson model.

This Swedish-Japanese company might have inspired his creation.

Lars is somewhat similar to Jean Kujo from the Virtua Fighter series. Both are European but have Japanese heritage and speak Japanese, also has part of their last intro quote speech. They also have been introduced at the expansions of Tekken 6 and Virtua Fighter 5 respectively.
Lars's hairstyle was (and to an extent, still is) criticized by several fans.
Even though Lars is the one who defeated Azazel, it was Jin who finally destroyed it.
Lars is one of the three characters who have the Instant Shining Wizard (iSW) ability (fff+2+4). His iSW is called "Rejection" and is the weakest iSW in the game.
Unlike most of his family clan (except for Lee/Violet who is adopted), Lars, along with Jin, does not have the surname of Mishima.
Lars is unplayable in Scenario Campaign's Arena Mode along with Alisa, since the Scenario Campaign describes both their stories.
In Tekken Tag Tournament 2, his highest promotion partner is Zafina.
See Lars' Gallery