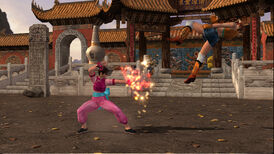 Law-B is the second of two stages belonging to Forest Law in Tekken Tag Tournament, the first one being Law-A. It features buildings with pagoda rooftops and people sitting down on the ground cheering. On one side of the pagoda, the Nine Dragon Wall from Law-A can be seen, indicating that both stages are not exactly the same but connected to each other. There is also junk on the waters of one side of the stage, indicating that this stage is set near a sea. The floor is filled with autumn leaves that scatter about when a player falls on it after being hit by certain moves. Forest Law's ending takes place here also.
Background Music
Gallery
Ad blocker interference detected!
Wikia is a free-to-use site that makes money from advertising. We have a modified experience for viewers using ad blockers

Wikia is not accessible if you've made further modifications. Remove the custom ad blocker rule(s) and the page will load as expected.