Lee Chaolan
Comments

6
1,112pages on
this wiki
Lee Chaolan (李 超狼, Ri Chaoran) is a character in the Tekken series. He was introduced in the original Tekken and returned for every subsequent game, except for Tekken 3. He has also at times appeared under his alter-ego dubbed Violet, of whom appeared playable in Tekken 4 and Tekken Tag Tournament 2. Lee is also one of the most popular characters in the series, and has a manipulative and high class style of play.
Appearance and Outfits
Edit
Lee Chaolan has distinctive silver hair which covers most of the top part of his head and he has either slate grey eyes or brown depending on the game. His primary outfit is a vest with the face of a unicorn at the back, leather pants, gloves and shoes. His secondary outfit is a classical tuxedo. Their colors vary with the series.
In Tekken 5 and Tekken 6, his primary outfit shows an indigo vest and brown pants while his secondary outfit shows a jet black tuxedo.
In Tekken 5: Dark Resurrection, his primary and secondary outfits are both entirely violet.
In Tekken 6, Lee can perform his item move when his outfit includes a red rose and/or a rapier.
His first item (rose) is a taunt with a brief stun effect - Lee elegantly throws his rose towards his opponent and says "C'mon".
His second item is a rapier that is a linear attack move; Lee performs a swordplay and simultaneously advances/attacks his opponent.
Before the events of the original Tekken, Heihachi sent Lee to the U.S. to handle the Mishima Zaibatsu's operations there, and to continue his business education. While Heihachi trained Kazuya in the art of Mishima Style Fighting Karate, Lee studied with Paul Phoenix and Marshall Law in the U.S. This is the reason of some of the moves that Lee shares with Paul Phoenix and Marshall Law.
Lee's parents died when he was a young child, leaving him to fend for himself on the streets. Facing a hostile environment each day, he quickly became a skilled scrapper with reflexes that were amazing for a boy of his age. It was these qualities that caught the eye of Heihachi, who witnessed Lee fighting off several other kids while on a business trip. Impressed by Lee's street-fighting skill, Heihachi decided to adopt Lee. Heihachi then took Lee Chaolan back to Japan to be educated.
Heihachi never actually felt any emotion towards Lee; the real purpose was to give Kazuya a rival to inspire him to shape up. Their combat skill is equal, but those who know Lee's power fear the "Silver-Haired Demon".
Pertaining to Heihachi Mishima as his adopted son, Lee Chaolan was entitled to the Mishima Zaibatsu just as much as Kazuya Mishima. It was only after the events of Tekken 2 that Lee sidetracked from the central plot of Tekken saga, though still retaining a strong affiliation.
Both Lee and Heihachi were defeated by Kazuya Mishima, who then took charge of the Mishima Zaibatsu. He was forced to serve Kazuya as his underling, leading the Tekken Force and handling menial matters to his utter chagrin. Lee was later approached by Wang Jinrei who warned him about Kazuya, and asked his help in returning honor to the Mishima Zaibatsu. Lee instead chooses to help his boss by delaying Heihachi long enough for Jun Kazama to defeat the Devil that was possessing Kazuya.
Then, Kazuya opens The King of Iron Fist Tournament 2. This time, Lee faced his adopted father, Heihachi Mishima, who was quite angry with him for helping his traitor son, Kazuya. Heihachi then defeated Lee Chaolan quite easily.
Twenty years ago Lee was expelled from the Mishima Zaibatsu where he betrayed Heihachi and sided with Kazuya during the King of Iron Fist Tournament 2.
For quite some time, thoughts of revenge consumed Lee. Eventually, he realized that it was pointless to kill an old man, who probably had only a few years left in his life at best. With that realization, Lee distanced himself from fighting and moved to a mansion in the Bahamas to lead a solitary life.
One day, he discovered a huge sell-off of G Corporation's stock online. Lee's intuition told him that something happened within the company. His intuition was correct. He hacked into their classified computer network and accessed their internal corporate communications. Lee learned that the Mishima Zaibatsu attacked G Corporation and caused significant damage to their research facilities.
He also came across information that a new life form under development by the Mishima Zaibatsu would be completed by next year. In order to complete the life form, however, it appeared that they were missing a critical component...
Oddly enough, an announcement was made for The King of Iron Fist Tournament 4 around the same time. Lee's fading passion for fighting was rekindled - along with his resentment towards the Mishima clan.
In order to prevent the Mishima Zaibatsu from discovering his true identity, Lee signed up for the Tournament online under a false name, Violet. As additional measures to mask his identity, he dyed his gleaming silver hair purple, wore a pair of sunglasses, and donned violet clothes.
Lee Chaolan, Heihachi's master and Kazuya's rival.
Lee entered the previous tournament in disguise to defeat Heihachi. However it turned out to be Kazuya who was dead from the 2nd King of Iron Fist Tournament, Lee lost to Kazuya, his fight, focus and the tournament.
With his master's death, Lee plans to take the Zaibatsu, but he was too late. He mutters that Kazuya always gets in his way.
A month later the King of Iron Fist Tournament 5 was announced, Lee was determined to have a rematch against Kazuya and take the Zaibatsu away from him.
Lee Chaolan took part in the King of Iron Fist Tournament 5 in order to take revenge on Kazuya Mishima. However, the one who had opened the tournament was not Kazuya, but Jinpachi Mishima, and Chaolan, after learning this fact, lost interest in the tournament and returned to his home in the Bahamas.
Soon afterward, the MFG, led by Jin Kazama brought the world to chaos, and around the same time G Corporation became a major opposition. Surprised by G Corporation's sudden military action, Chaolan, a major shareholder, conducted a private investigation with the utmost secrecy and discovered that it was Kazuya who was the real power behind G Corporation actions.
After obtaining information that Kazuya himself would take part in this tournament, Chaolan, using a shareholder's preferential treatment ticket, enters the tournament in order to get close to Kazuya.
Other media
Edit
Lee Chaolan is featured in Tekken: The Motion Picture as one of the main antagonists. Lee plans on using the tournament to test out his new experiments on the fighters and to defeat Kazuya Mishima so that he will inherit the Mishima Zaibatsu. To this end, Lee seduces both Nina and Anna Williams and sends them to assassinate Kazuya, although all their attempts end in failure. As a last resort, Lee faces Kazuya himself in front of the Mishima tower during the tournament, but is quickly defeated. After being swiped aside by a disgusted Heihachi, Lee commits suicide by setting off the island's self-destruct sequence and remaining inside the tower when it explode.
Lee appeared as a playable character in Tekken Tag Tournament game. He retains his moveset from Tekken 2 plus many moves added to them. Lee has many moves added possibly due to his absence in Tekken 3.
While Tekken Tag Tournament is not a canonical game in the series, it is looked at as the refined version of Tekken 3.
Lee appeared in Tekken: Blood Vengeance as a teacher at Kyoto International School in which Ling Xiaoyu attends as a student. When Ling and Alisa are trying to escape Anna and the G-corporation, Lee provides shelter for them in his mansion which is ultimately destroyed when Anna finally tracks them down.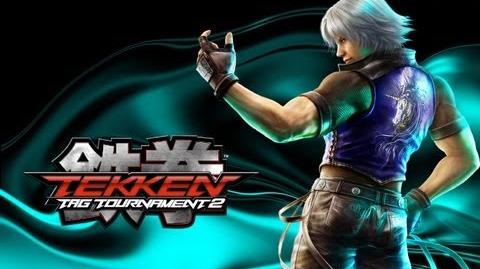 Lee returns as a playable character in Tekken Tag Tournament 2. He retains his moveset from Tekken 6 plus few moves added to them with a network of team alliances. His Violet alter-ego also appears as a training instructor in Fight Lab mode, and as a DLC fighter.
Ending Description: Lee and his assistant get off from a limo and as she explains his schedule, Lee is continuously beating up Tekken Force members while casually walking and listening to her. He found a sticker in the woman's back. All of the Tekken Force were knocked down by Lee.
Character Relationships
Edit
General
In Lee's Tekken 4, 5, 6 (as well as his Scenario Campaign ending), and Tag Tournament 2 he says his catchphrase "Excellent!" in the final parts.
Lee Chaolan's name is similar to the Chinese Name of Bruce Lee, which is "Li Xiaolong" (Xiaolong means "little dragon").
Due to his early appearance and moveset, it is possible aspects of Lee were loosely based on famous martial artist Donnie Yen. Also, originally Lee was almost a clone character of Marshall Law, who was based on Bruce Lee and Donnie Yen has often been seen as the 'new Bruce Lee' throughout his career.
Lee's physical appearance is quite similar with Brandon Lee and Kim Vo.
Lee often wears a Unicorn on his clothing, an animal known as a symbol of purity, elegance, and charm. It's also known for courage and strength.
Lee seems to possess a company called Violet Systems, as shown in Tekken 6.
Lee did not appear in Tekken 3. With Ogre utilizing Lee's Infinity Kick move, many thought he had been attacked by Ogre.
A running joke in some of the other fighters endings like Kuma's and Panda's in Tekken 5 or in Anna Williams' in Tekken 6 is that Lee is seen giving a thumbs up to whatever happens in their ending movies.
Lee's fighting style is a fusion of Jeet Kune Do and Sanshou.
Lee is Kazuya's stage 8 sub-boss. When you beat arcade mode with Kazuya, Lee will be unlocked and when you use Lee in Arcade, Kazuya will be Lee's stage 8 sub-boss (console version only).
Lee is Heihachi's stage 8 sub-boss. When you beat Arcade Mode with Heihachi, Lee will be unlocked and when you use Lee in Arcade, Heihachi will be Lee's stage 8 sub-boss.
Lee is selectable after beating Story Mode with Violet. Violet is an alter-ego he created to keep the Mishima Zaibatsu from discovering his true identity while entering the fourth tournament.
His alter-ego, Violet, holds a strong resemblance of Michael Jackson, especially when he span around and put his arms up after winning a battle.
Despite being Japanese, Lee speaks English in this game.
He and Jin Kazama are the only Japanese characters who can speak English. While Jin only spoke in English to Hwoarang, Lee spoke English throughout the game.
Lee have 3 interludes, Stage 4 is with Kazuya, Stage 8 is Heihachi and Final Stage is Jinpachi.
Lee can be customized to look like Violet, his alter-ego from Tekken 4.
Lee can also be customized to look like a member of the Tekken Force and he can somewhat resemble Tuxedo Mask from the widely known anime series Sailor Moon.
Lee speaks Japanese this time.
In the French version of the game (and Tekken 6), Lee's "You need to fight with more class" phrase was mistranslated. In French, it says "Tu n'as vraiment aucun style" which actually means "You don't have any style".
Lee can be customized to look like Raphael Sorel from Namco's Soul Calibur series. His Item Move is a rapier and his movements with it are also similar to Raphael's.
Lee can again be customized to look like his alter-ego from Tekken 4, Violet.
Lee's Item move is a flower. He throws the flower and stabs the enemy's head.
Lee can also, once again, be customized to look like Might Guy from the Naruto series.
In the Scenario Campaign mode, Lee becomes an ally of his adoptive younger brother, Lars and helps him to take down Kazuya, the G Corporation, Jin and the Mishima Zaibatsu. In the end, Lee owes Lars a debt for helping him and promises to fix Alisa Bosconovitch's body.
It is the first Tekken where Lee meets his adoptive nephew, Jin.
Lee's nickname, the "Silver-haired Demon", is brought up in the "Abyss Gate" stage of Scenario Campaign, where the spectators and Steve Fox refer to him using this name.
Lee Chaolan has a Picture Avatar of Trophy/Achivement of Night at the Movies.
His alter-ago Violet makes a return in the Fight Lab mode. He is also introduced as a DLC Character.
Lee Chaolan can be costumized by his 2P outfit from Tekken 5, Tekken 6: Bloodline Rebellion and his 2P outfit from Tekken 4.
He has an Item Move that lets him use a Magic Wand and it will make a rose on their mouth.
Move lists
Edit
See Lee's Gallery