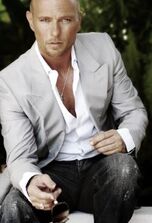 Luke Goss is an English singer and actor who portrayed Steve Fox in the 2010 live-action Tekken film. Goss is best known as the member of the Pop-Dance boy band Bros along with his twin brother and done acting roles playing Jared Nomak in Blade 2, Alexander Wolfe in Silver Hawk, Frankenstein's Monster in The Frankenstein mini series and Prince Nuada in Hellboy 2: The Golden Army.
He had recently completed filming his first role for Network Television in JJ Abrams' Fringe. Luke Goss has recently completed leading roles in Across The Line, Blood Out, and has taken over Universals' Death Race franchise, firmly establishing him as a leading man.
Trivia
Was in a very successful boy band with twin brother Matt Goss called Bros.

After they broke up (because the contract their parents signed on their behalf entitled the record company to take a cut from the top, leaving the brothers nothing), he sold everything he had and started Luke Goss And The Band Of Thieves.
His first theatre role was in Plan Nine From Outer Space which was adapted from the Ed Wood screenplay.
Was originally supposed to play Luc Crash aka Death in the film The Crow: Wicked Prayer (2005), but was replaced by David Boreanez.
Has a twin brother, singer/songwriter/author, Matt Goss, and a step-brother named Adam.
His wife, singer Shirley Lewis, has worked with singer George Michael and many other huge names in music.
He is stepfather to his wife Shirley's daughter Carli Wheatley, who is a personal trainer and nutritional consultant in London.
In January 2007, he and wife Shirley moved permanently to the Los Angeles area, though they are still maintaining an apartment in London.
Ad blocker interference detected!
Wikia is a free-to-use site that makes money from advertising. We have a modified experience for viewers using ad blockers

Wikia is not accessible if you've made further modifications. Remove the custom ad blocker rule(s) and the page will load as expected.