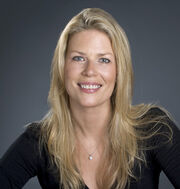 Mary Elizabeth McGlynn (Japanese: メアリー・エリザベス・マックグリン Mearī Erizabesu makkugurin) is an American voice actress who first voiced Nina Williams in Death by Degrees and later assumed the role in the main series starting with the following game's cutscenes. She is usually credited with aliases such as Charlotte Bell and Abbie Normal. She was also the voice of Emma Kliesen in Steve Fox's Tekken Tag Tournament 2 ending.
Trivia
Is an on-camera/voice actress, singer and ADR director for cartoon/anime/video game voiceovers. (i.e. ADR direction on "Flint the Time Detective").
External Link
Ad blocker interference detected!
Wikia is a free-to-use site that makes money from advertising. We have a modified experience for viewers using ad blockers

Wikia is not accessible if you've made further modifications. Remove the custom ad blocker rule(s) and the page will load as expected.