Miguel Caballero Rojo
Comments

0
1,112pages on
this wiki
Miguel Caballero Rojo is a fictional Spanish character in the Tekken fighting game series.
Along with Zafina, Leo, and Bob, Miguel is one of the new characters who were first introduced in Tekken 6. He also appears in Tekken 6: Bloodline Rebellion.
Storyline
Edit
Despising the thought of having his life in the hands of other people, Miguel sought to live it on his own. Even after being raised by strict parents, his bloodthirsty personality found him starting fights with people around him and caused him to be seen as a rebel.
Countless arguments with his parents forced Miguel to leave home at the age of 15, but he soon found sanctuary at a bar he visited often. He trusted no one except his kind-hearted sister whom he cared about more than anyone.
She visited him secretly without their parents knowing about it. Some time later, Miguel's sister told him that she was to be married. Miguel, being outraged by this, thought of killing her fiance.
Not wanting to break his dear sister's heart, Miguel decides against it.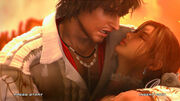 On the day of the wedding, Miguel watched the ceremony from outside of the church, not wanting to be seen by his parents. Under the clear blue sky, almost as if it was a blessing, a line of planes passed by the wedding.
Just a moment later, a burning inferno covered the scene. Miguel was blown away, and although he was in great pain and almost collapsed, Miguel tried desperately to look for his sister inside the remains of the church.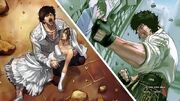 Later on, Miguel found her already dead, her wedding dress soaked in blood.
Some time after, Miguel discovered that the air raid that killed his sister was ordered by the Mishima Zaibatsu, and with lust for vengeance he vowed to get revenge on the Zaibatsu's leader, Jin Kazama.
Ultimately, Miguel fails to catch Jin and his fate is left unanswered.
Jin Kazama is about to take off in a helicopter, when Miguel is seen rushing towards him. Tekken Force soldiers tried to stop him, but he defeats every soldier that stood in his way. Miguel defeats each soldier with either a single punch or kick.
Jin Kazama takes off, and Miguel tries to grab onto the flying helicopter. He unfortunately fails at extracting his revenge. He shouts in frustration as Jin Kazama, the person who killed his sister, escapes unscathed.
Other media
Edit
Miguel appeared in the Tekken 2010 live action film where he is portrayed by Roger Huerta. He is the only Tekken 6 character to appear in the film, and is renamed "Miguel Rojo". He participates in the Iron Fist tournament and faces Jin Kazama. Despite holding his own rather formidably, he is defeated by Jin when he crushes his leg and is beaten unmercifully, nearly killing him.
Miguel appear as a playable character in Tekken Tag Tournament 2.
Description
Edit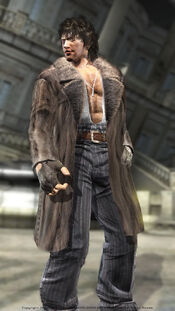 Nothing much is known of Miguel yet, as he has only been featured in the last two recent Tekken games. He is a rather blood-thirsty and rebellious character, whose reckless nature can be seen as both his weakness and his strength.
Miguel is depicted as an undisciplined Spaniard with a very intense passion for fighting, which often brought him into conflict with others. Despite being born in a conservative family, his wild and unruly nature made him the black sheep.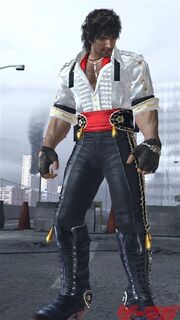 Despite his negative side, Miguel is shown to be capable of love, especially in the case of his sister, whom he grew to trust and treasure. However, Miguel's extreme over-protective concern for his sister made him consider killing his future brother-in-law, though he decides against it for the sake of her happiness.
Miguel has also been frequently described as the "manliest man" in the series due to his big, towering figure and his oppressive aura of power. Most of his customization options feature the theme of manliness, like muscle shirts, unzipped leather coats, and facial hair, and his outfits prominently feature his muscular and chiseled figure.
Appearance and Outfits
Edit
Miguel is a muscular dark-skinned brawler, who has brown curly hair, a light unshaven beard, thick brown eyebrows and light brown eyes. His default outfit (in Tekken 6) resembles a typical bullfighter's suit.
Fighting Style
Edit
Namco stated that Miguel has no formal martial arts training and that he does not use or follow any formal style or discipline. Instead, he brawls his way out of any fight. Making use of his brutal strength and raw muscle-power, his self made "style" confuses and disorients opponents with wild, powerful blows.
His moves consist of no-holds-barred, underhanded techniques such as brutal body checks, vicious headbutts, crushing hay makers and splitting leg swipes. Due to his size, Miguel is a bit on the slow side, and is often a huge target.
Tekken developer and Executive Producer of Tekken 6, Katsuhiro Harada [1], describes Miguel as "a brawler from Spain". Unlike many of the other fighters, Miguel is no martial artist. He appears to be very overconfident of his fighting abilities, though he has never taken any formal martial arts training. In one of Miguel's win quotes, he mentions having just been to confession, meaning Miguel is a devout Catholic despite his standoffish personality.
Fighting Style Information
Edit
One of Miguel's stances is called "Savage Stance". Some of the commands for Miguel's moves are "1,2,4", "f,f+2", "d/f+1,1~F (goes into "Savage Stance")", "("Savage Stance") b+1,2", "FC d/f+2", and "d/f+1+2". The command for Miguel's unblockable move is "f+3+4~F". For this move, Miguel walks towards his opponent slowly while putting a hand over his mouth and laughing (this is one of Miguel's taunt moves), then he performs a quick downwards punch with the hand that he used to cover his mouth with. This move takes away an entire health bar is a one hit KO if it hits unhindered, and takes away 75% of health bar if hit as it connects.
Character Relationships
Edit
In Tekken 6's "Arena" mode, Kazuya Mishima becomes his sub-boss, rather than Jin Kazama, although Miguel doesn't dislike the G Corporation. This is due to Jin being in Miguel's ending.
In Tekken 6's Scenario Campaign mode, Miguel is a boss at the "South Bay Warehouse" stage. Also, Miguel, Baek Doo San and Hwoarang lead a "Resistance" to fight against Jin and the Mishima Zaibatsu.
In Tekken 6 and Tekken 6: Bloodline Rebellion, Miguel can be customized to look like John Rambo from the Rambo film series (Shirtless and Camo tank-top), El Mariachi (Antonio Banderas) from El Mariachi, Dante and Nero from the Devil May Cry series, The Undertaker from WWE, and Leon S. Kennedy from the Resident Evil series.
Miguel has a special pre-fight animation, which will only be shown before fighting Jin Kazama. In it, he says "This grudge I bear is for you, and you alone." whilst crazily pointing his index finger towards Jin.
Miguel's "Heh. I wish I could stay, but I've got things to do." winpose is similar to Lee Chaolan's "You need to fight with more class." winpose, except that Miguel's doesn't show the downed oppone

nt.

Miguel is the 2nd largest character that Anna and Hwoarang can sit on their winposes.

Miguel is the only character outside of the Williams and Mishima families who develops family issues.

Miguel is the second character who has a known religion, the first being King.
In Tekken 6 and Tekken 6: Bloodline Rebellion, Miguel speaks English, but has subtitles, while in Tekken Tag Tournament 2, Miguel speaks Spanish.
In Tekken 6 Miguel is the only character, except Azazel, who speaks English and has subtitles.
See Miguel's Gallery