Miguel Caballero Rojo/Outfits
Talk

0
Miguel Caballero Rojo is a character who first appeared in Tekken 6. Miguel is a muscular tanned-complexion brawler, who has brown curly hair, a light unshaven beard, thick brown eyebrows and light brown eyes. Because his outfit resembles a typical bullfighter's suit, he has received the nickname of "Miguel el Matador" in Spain.
In Tekken 6, Miguel was given two new default costumes.
Player 1 outfit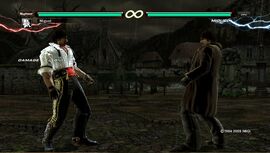 His P1 outfit is an outfit that resembles a Matador (bullfighter) costume. It consists of a white dress shirt heavily embroidered in gold, with its sleeves folded up to his elbows, black skintight pants with an embroidered gold pattern down its sides, and a wide red belt with the same embroidered pattern on its side. Finally, he wears a pair of black knee-high boots with black laces and golden patterns on its sides. His shirt is only half-buttoned, thus revealing a red scarf behind his neck, a silver choker, and his chest. In Tekken 6: Bloodline Rebellion his shirt's sleeves are rolled up to his elbows and he has black fingerless gloves.
In the console opening and his ending in Tekken 6, the sleeves of his white dress shirt are not rolled up and is not seen wearing black fingerless gloves and before the bombardment during his sister's wedding, he wears purple sports sunglasses while watching his sister and his parents from afar.
Player 2 outfit
His P2 outfit is a coat that resembles a street fighter's clothes. It consists of a long brown leather coat with a fur collar, an unbuttoned gray dress shirt, and striped gray pants with a brown leather belt. Finally, he wears a pair of brown shoes. In this outfit, his inner shirt is very loose, thus revealing a silver necklace, and more of his chest.
In
Tekken Tag Tournament 2
, Miguel's P1 outfit is different.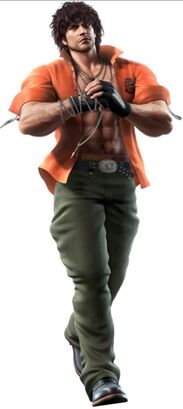 Player 1 outfit
Miguel's new outfit consists of an orange openly button loose shirt with the sleeves rolled up to his elbows and various logos, dark green jeans which shows the outline of his boxers, a black belt, a belt buckle and black fingerless gloves and black shoes. He also wears extra jewelery.
Player 2 outfit
His button shirt changes to green and his jeans change to black.