Mirror Darkness is a stage in Tekken 2. The fight takes place in a large, dark room with a bare grey floor. In the background, there are many mirrors that can be seen reflecting the fight taking place, hence the name "Mirror Darkness".
Background Music
Gallery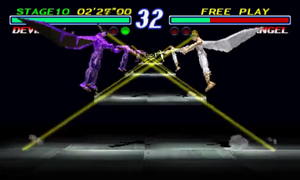 Trivia
The stage theme is called "Be in the Mirror", whose melody is the same as "Emotionless Passion", the theme of Kazuya's stage, Eternal Darkness.

The Arcade soundtrack does not feature a unique theme for this stage: the theme for Kazuya's stage is used instead.

Although the onscreen display is not reflected in the mirror, the words that appear at the end of a round (KO, You Win etc.) are reflected.

When playing in Practice Mode, the button inputs which are displayed onscreen will also be reflected in the mirrors.
Ad blocker interference detected!
Wikia is a free-to-use site that makes money from advertising. We have a modified experience for viewers using ad blockers

Wikia is not accessible if you've made further modifications. Remove the custom ad blocker rule(s) and the page will load as expected.