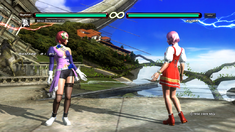 A Mirror Match refers to a match in a game in which two players face off against each other using the same character, team, etc.
Description
Mirror matches are often done for fun; in high-level play, it also provides the opportunity for players to discover who has the better handle on a given character, and further understand their own playstyle and that of others.
Gallery
Ad blocker interference detected!
Wikia is a free-to-use site that makes money from advertising. We have a modified experience for viewers using ad blockers

Wikia is not accessible if you've made further modifications. Remove the custom ad blocker rule(s) and the page will load as expected.