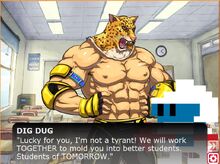 Namco High was a freemium browser-based dating sim featuring characters from Namco Bandai's video game franchises.
About
Andrew Hussie was the project's creative director. Playing as the cousin to the Prince from the Katamari series, the player was able to date other Namco Bandai characters.
Six characters were available to date for free, while another twelve were purchasable premium content. All twelve, including the three Homestuck characters; Terezi Pyrope, Jane Crocker, and Davesprite, were obtainable via the Deluxe Pak. Three 3-Paks also existed that allowed the purchase of pre-selected groups of three Namco Bandai and a random Homestuck character; all nine Namco Bandai characters could also be purchased separately. Pre-ordering the Deluxe Pak gave people the Namco High soundtrack and other digital merchandise.
King, Dig Dug and Pac-Man were teachers at the institute.
Shutdown
On July 1st, 2014, the Namco High servers were shut down as part of the closing of ShiftyLook.
On February 18th, 2014, an announcement was posted on the ShiftyLook website revealing that Namco High was to be shut down on June 30th, the premium content would cease being sold March 28th and that the premium could be purchased at half price until that time.
On March 10th, 2014, the reason for the shutdown was revealed when ShiftyLook announced that having fulfilled its purpose of reviving old video game characters, it was being shutdown and that the shutdown of Namco High was part of the closing of ShiftyLook as a whole.
On July 1st, 2014, one day after the scheduled shutdown date, Namco Highs servers were shut down and the game is no longer accessible on the ShiftyLook website.
External Links
Ad blocker interference detected!
Wikia is a free-to-use site that makes money from advertising. We have a modified experience for viewers using ad blockers

Wikia is not accessible if you've made further modifications. Remove the custom ad blocker rule(s) and the page will load as expected.