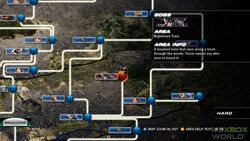 Nightmare Train is a Scenario Campaign stage in Tekken 6. In this stage, the player (alongside either Alisa or Lars) must traverse the length of the train, fighting various powerful demonic enemies along the way, before reaching the boss character. The player can be thrown outside the train, as well as the enemies - if the player gets thrown onto the rails, they will fail the mission. The Nightmare Train is widely regarded to be the hardest Scenario Campaign level. The final boss here is Devil Jin.
Minions
Rewards
By completing this stage, the player will get the following unlockables:
Unlock character: Devil Jin
Get trophy: What a Nightmare.
Stage Music
Guide Tutorial 
Ad blocker interference detected!
Wikia is a free-to-use site that makes money from advertising. We have a modified experience for viewers using ad blockers

Wikia is not accessible if you've made further modifications. Remove the custom ad blocker rule(s) and the page will load as expected.