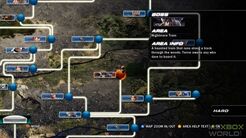 Nightmare Train is a stage in Tekken 6 Scenario Campaign. In this stage, the player (alongside with Alisa or Lars) will fight various powerful demonic enemies before reaching the actual boss. The players can be thrown outside the train as well as the enemies. If the player gets thrown onto the rails, they will fail the mission. This is known to be the hardest Scenario Campaign level. The final boss here is Devil Jin.
Minions
Rewards
By completing this stage, the player will get the following unlockables:
Unlock character: Devil Jin
Get trophy: What a Nightmare.
Stage Music
Guide Tutorial