Nina Williams is notable for her blonde hair, being tied into a ponytail or a braid, and crystal-blue eyes. Nina usually wears lipstick, often varying from violet, to red, to bronze, and even peach. Her signature color is purple, as she is known to have at least one purple outfit in every game.
Her hair changes somewhat as the series goes on, with her ponytail getting noticeably thicker and longer as the series goes on, as well as appearing to have two sections of side locks tucked behind her ears while the bangs are center parted. In Tekken 7 for her new default costume she wears her ponytail to the side and curled with a veil over it, as well as braiding the sides and having somewhat thinner bangs.
Her dress style varies, as she is able to wear a lot of revealing or feminine outfits such as nurse uniforms, riding jackets, and unzipped racing suits(These are likely disguises for her various assassination missions), but she can also wear tactical business gear such as stewardess attire, and army style clothing.
Player 1 outfit:
Nina's Player 1 outfit consists of a skin tight purple and black outfit with a yellow sash around her waist. The outfit is sleeveless and the bottoms are tight leggings. There is a black cuff around her ankle. She is also wearing black armbands around her wrists. She has a red hair tie, and her nails and lipstick are also red. She is barefoot as she is wearing red toenail polish. 
Player 2 outfit:
Nina's Player 2 outfit is a black crop top with black sleeves that have yellow patterns on them. She wears black capri with vertical yellow ovals down the outside of her legs. She wears flat black and white shoes. She wears blue earrings, along with a blue hair tie. Her nails and lipstick are red as well. Her outfit seems to be Chinese inspired. 
In her ending, she wears a purple long sleeve shirt, black pants and black flats. This is her casual outfit and she was the one who keeps Anna's missing shoe.
Player 1 outfit:
Nina's Player 1 outfit is a skintight sleeveless dark purple turtleneck short dress. She is wearing garter thigh high light purple stockings with dark purple high heels with ankle straps. She is wearing purple warmers. She has purple hoop earrings on, and her hair tie and lipstick are red. There also seems to be a yellow ribbon dangling on the back of her dress.
In Anna's ending, the yellow ribbon is not seen.
In the console opening Nina was seen wearing a black short dress and a matching garter thigh high black stockings and heels and was a contrast to her primary outfit.
Player 2 outfit:
Nina's Player 2 outfit is a zip-front green camouflage skintight suit, which exposes much cleavage. She wears black leather gloves. She sports black leather boots that reach just below her knees. She wears a black hair tie. Her lipstick is red.
In her ending, she wears a black long formal coat while wearing her casual dress underneath and long boots. She also has a gun holster on her right thigh where she gunpoints her sister Anna from her gun.
Player 1 outfit:
Nina's Player 1 outfit is a purple stealth suit. It is very similar in appearance to her first outfit in Tekken 2. She has a knife holster on her right thigh and her patent leather dark purple high-heeled boots go up over her knees. Her forearms have purple warmers and she has a purple cuff around her right arm. Her lipstick is bronze.
In Tekken: The Motion Picture during her fight with her younger sister, Anna before being devoured by several Alex dinosaurs sent by Lee. She wears this outfit but the color of her primary outfit is a darker shades of blue instead of purple and her facial appearance and her red lipstick is her Tekken 2 appearance.
Player 2 outfit:
Nina's Player 2 outfit consists of a short, sleeveless, collared, maroon leopard print crop top, along with tight, black leather pants. Her top has a deep V-plunge line in the front that exposes her black bra. She wears black stilleto heels. Her lipstick is dark red which matches her top.
In her ending, she retains her casual outfit in Tekken 2.
In Anna's two endings in each version, she wears a black strapless one-piece suit.
Player 1 outfit:
Nina's Player 1 outfit is a sleeveless camouflage purple and blue catsuit. She has long purple and blue gloves that cover her forearm. She wears purple and silver high boots. She has a holster on her right leg and wears a choker around her neck.
Player 2 outfit:
Her Player 2 outfit is a hot pink body suit. She has a silver necklace and pink sunglasses. The outfit is finished off with short purple gloves and white boots that go up to her knees. This outfit is similar to her Player 2 outfit in Tekken 2. In the interconnected endings between Lei, Steve and herself. The color of her body suit changed to dark blue (this outfit made her similar to the fictional character named Penelope Pitstop, minus the scarf, and skirt or jacket in that manner).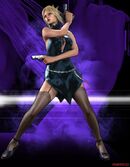 Though Nina has many outfits in this game, these outfits aren't featured in the Tekken series prior to Death By Degrees.
Swimwear: A white bikini. This outfit is first seen at the beginning of the game. Nina wears this outfit during the "Tutorial" part of the game.
Cocktail Dress: A blue outfit with stockings. This outfit is obtained when she is locked in a room on the Amphitrite. It is given by a male character on the Amphitrite. She also wears this outfit in Anna or her ending in Tekken 6.
Infiltration Suit: A purple jumpsuit that resembles various outfits worn by Nina in the Tekken games. This outfit is obtained when Nina finds it in Lana Lei's closet on the Amphitrite.
Tekken Force Battle Suit: A black, silver, and blue outfit. This outfit is first obtained when Nina and Alan leave the Solitaria Penitentiary by helicopter and head back to the Amphitrite. Alan gives Nina this outfit.
Wrestling Outfit: The pink and silver outfit that Nina first wears in the fighting tournament at the beginning of the game. It is an unlockable outfit. The player must play through Death By Degrees two times to unlock it. In Tekken 6, her wrestling outfit in included in her customizations.
Tekken 2 Character Model: An unlockable outfit. It is Nina's Tekken 2 character model.
Player 1 outfit:
Her Player 1 outfit is a purple army suit with a splotchy camouflage design around her body. Her torso area is separate from her top to show off her skin. Six wires supports the clothing on her crotch. She wears long purple gloves that has two buckles on each and cover most of her arms. Her boots look similar to the design of her gloves. She still retains her knife holster on her right thigh from Tekken 3.
Player 2 outfit:
Her Player 2 outfit is a gold sleeveless silk body suit. Her chest area is revealed but a black leopard design surrounds it. She also wears short white gloves and white opentoe heels.
Player 1 outfit:
Nina's outfit remains the same in design from Tekken 5, with a few color changes. In her Player 1 outfit, the army suit changes from purple to white.
Player 2 outfit:
Her Player 2 outfit changes her silk suit from gold to purple but maintains the black leopard area. Her gloves and shoes also change, but from white to black.
Player 1 outfit:
(See Tekken 5 Player 1 outfit.)
Player 2 outfit:
Her Player 2 outfit consists of a white top with a red-velvet leather jacket and white pants. She wears the white opentoe shoes similar to her Tekken 5 Player 2 outfit, except they have straps. A belt also surrounds her jacket and is the same color. In Scenario Campaign mode, the color of her Player 2 outfit is all black and her white top changed to gray.
Her customizations are her black rider outfit either zip-up or unzipped where it shows her cleavage. This outfit is seen in the Scenario Campaign mode and in the movie Tekken: Blood Vengeance and her wrestling attire from Death by Degrees.
Player 1 outfit:
(See Tekken 5 Player 1 outfit.)
Player 2 outfit:
(See Tekken 6 Player 2 outfit.)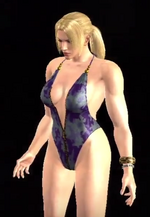 (See Tekken 5 Player 1 Outfit.)
(See Tekken 5: Dark Resurrection Player 1 Outfit.)
In the Swimsuit Trailer, along with her younger sister, Anna, she wears a revealing, different shades of purple one-piece suit.
Player 1 outfit:
(See Tekken 5 Player 1 Outfit.)
Swap Costume
Nina's swap costume is based on Rolento and she wears a golden yellow mini button shirt with a brown shoulder holster with two grenades attached on her holster. brown and golden yellow pants with a long triangle hole in the right fitted sleeves and baggy sleeves on the left with two knife holsters in her right thigh and leg and a brown side belt on her waist and black military boots. She also wears black long gloves and a red beret on her head and has a black eye patch on her right eye.
Alternate Costume:
Nina is now seen wearing a short sleeved mini button shirt with a purple tie on her collar, red checkered skirt with a black side belt to her waist along with a knife holster, and black combat boots. She also wears black gloves and has a backpack.
In the updated version of Tekken 7, Nina now wears a new main outfit which is opposed to her purple catsuit primary outfits in the previous games.
She is now wears an off-white long strapless wedding gown and the length of the right skirt of her wedding gown it was long up to her leg and also has shreds at the edge of her skirt and at the front of her skirt has covered in dirt and burns and it's interior of her gown is dirty white. It also has white single frill design on her waist to keep themselves attached within her gown. She also wears a matching off-white long gloves with a white rose adorned on her left glove and a diamond bracelet on her wrist and a dark green and red gun holster on her left thigh where she keeps her handgun, two back up guns and her smoke grenade adorned with two off-white belts and a matching off-white crossed heels with a matching off white anklet on her right leg. She is also adorned with a white wedding veil on her head with two gray flower designs and her blonde hair is tied in a bun and at the right side of her hair is loose in a style of ringlets and wears a matching silver sparkling earrings on her ear. Her lipstick when she wears her outfit is now red like her Tekken 2 appearance.
Like Shaheen, when she is knocked by his/her opponent, the veil and laces from her wedding gown can be knocked off during the game.
Like the other female characters, Nina's swimsuit DLC offers her the choice of two bikinis - a Diva Bikini and a Tropical Bikini.
Player 1 outfit: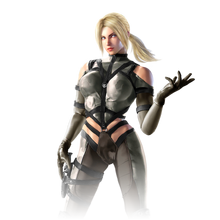 (See Tekken 7: Fated Retribution Player 1 outfit) (4-Star)
Unlockables:
(See Tekken 5 Player 1 outfit) This is her default outfit during the Story Mode with Kazuya Mishima after he defeated her in the beginning of the game. (2-Star)
(See Tekken 5: Dark Resurrection Player 1 outfit) (1-Star)
Her black biker outfit customization in Tekken 6, Tekken: Blood Vengeance and the story mode in Tekken 7. (3-Star)