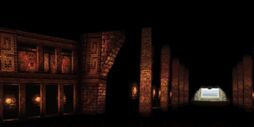 Ogre's Temple is Ogre and True Ogre's stage in Tekken 3. It is dark and lit with ominous torches. There is a tunnel of light located far away in the background, connected by the pillars along the path, leading to the Mexican Temple.
Background Music
Trivia
This stage was featured in Tekken Tag Tournament mostly unchanged. Heihachi Mishima is fought here in Tekken Advance, but Ogre's BGM will play despite being absent.
This stage goes dark when the player is fighting against True Ogre.
Ad blocker interference detected!
Wikia is a free-to-use site that makes money from advertising. We have a modified experience for viewers using ad blockers

Wikia is not accessible if you've made further modifications. Remove the custom ad blocker rule(s) and the page will load as expected.