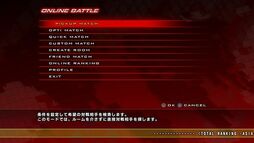 Online Mode is a game mode in Tekken 5: Dark Resurrection, Tekken 6 and Tekken Tag Tournament 2. To play this mode, the Tekken 6 game must be updated via Playstation Network. If one wishes to play this mode in Tekken 5: Dark Resurrection, one must purchase and download the Online Version via Playstation Store.
Description
Tekken 6
Here, players can enjoy various battles with other worldwide Tekken fans. There are two different modes: Ranked Match or Player Match. In online mode, the player can also enjoy the voice chat with the opponent during the fight and promoting their rank, thus earning fight money for customizations. Fighting in player match mode is a penalty-free method of randomly versing players regardless of rank. 
Player can also invite a fellow player off their list of PSN or Xbox Live friends to a private session where they can battle freely without penalty of demotion or number of losses increasing. An invitation is received via message. Or simply, the player can go to "Confirm Invitation" and formally accept, as long as the request has not expired.
Tekken Tag Tournament 2
As of Tekken Tag Tournament 2, one now has the chance to go into a manual practice session discreetly until a player connection is received. The CPU is Mokujin.
The addition of team names and P1, P2 team battles have been added for a better and more personalized experience. Also, after each online battle, there is now a "Tekken Channel" section that lets the player review their recent battle replays or even replays their friends send to them. There is a limit to how many replays can be saved without deleting the oldest at the bottom of the list.
Gallery
Ad blocker interference detected!
Wikia is a free-to-use site that makes money from advertising. We have a modified experience for viewers using ad blockers

Wikia is not accessible if you've made further modifications. Remove the custom ad blocker rule(s) and the page will load as expected.