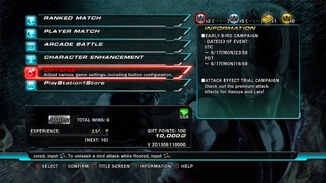 Options is a mode that lets the player change various settings in the game. These usually just apply to Arcade, Vs Mode and Story.                                            
Some examples are:                                            
Difficulty.
Round Time.
Number of Rounds.
Display.
Controller Configuration.
Trivia
However, the game difficulty can be changed while pressing the start button and accessing the start menu in some Tekken games such as Tekken 5, Tekken 6 and Tekken Tag Tournament 2.

Though in TTT2, the change only applies to Story Mode and therefore does not affect the set difficulty for Ghost Mode.
Ad blocker interference detected!
Wikia is a free-to-use site that makes money from advertising. We have a modified experience for viewers using ad blockers

Wikia is not accessible if you've made further modifications. Remove the custom ad blocker rule(s) and the page will load as expected.