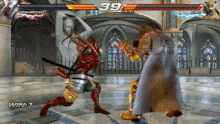 A Rage Art is a type of move introduced in Tekken 7. It is a powerful attack with power crushing properties that can only be used when a fighter has Rage. Rage Arts are similar to Ultra Combos in the Street Fighter IV series and Critical Edges in Soulcalibur V. Rage Arts were the only moves that let a character expend their Rage status until the introduction of Rage Drives in Tekken 7: Fated Retribution.
List of Rage Arts in Tekken 7
In Tekken (Mobile), some characters gain new Rage Arts whilst returning characters gain Rage Arts exclusive to the mobile version:
Gameplay
Most Rage Arts are mid attacks, meaning they can hit both standing and crouching opponents. All Rage Arts except Akuma's can be blocked, however, and all except for Jin and Hwoarang's are punishable on block.
Rage Arts do more damage the less health the user has. As Rage Arts have power crushing properties a fighter who initiates one can still execute the attack if they are hit during the start up animation (as long as they have enough health to survive the attack), making them powerful crush moves.
However, given that Rage Art's are punishable and using them forfeits your rage status, Rage Drive's are generally safer and more useful alternatives. It is possible to combo into a Rage Art however, and this is a safe way to deal a ton of damage.
Videos
Trivia
Rage Arts are similar to Super Moves in the Street Fighter series, Critical Edges in Soulcalibur V, Power Blow from Dead or Alive 5, and Hidden Super Desperation Moves from The King of Fighters 2002.
Lars' Rage Art based on his Super Art in Street Fighter X Tekken and his Ultimate Jutsu in Naruto Ultimate Ninja Storm 2.
Jin's Rage Art is a direct reference to themove that Jin uses to finish off Heihachi in Tekken: Blood Vengeance, as well as his Super Move "Jab" in Project X Zone.
Akuma's Rage Art is Wrath of the Raging Demon, his first Ultra Combo in the Street Fighter IV series.
Devil Jin's Rage Art is the Critical Edge that a custom character in Soulcalibur V can use when using Devil Jin's moveset, with some minor changes.
Josie's initial Rage Art is similar to Xiba's Critical Edge in Soulcalibur V. It has since been changed in Fated Retribution.
Dragunov's new Rage Art bears a resemblance to Q's Deadly Double Combination in Street Fighter III: 3rd Strike.
Kuma and Panda's Rage Art are based on Shoma Sawamura's Grand Slam and his Homerun Hitter from Capcom's Rival Schools series.
Ad blocker interference detected!
Wikia is a free-to-use site that makes money from advertising. We have a modified experience for viewers using ad blockers

Wikia is not accessible if you've made further modifications. Remove the custom ad blocker rule(s) and the page will load as expected.