Sergei Dragunov
Comments

13
1,152pages on
this wiki

Sergei Dragunov (Japanese: セルゲイ・ドラグノフ Serugei Doragunofu; Russian: Сергей Драгунов Sergey Dragunov) is a character in the Tekken series. He was first introduced in Tekken 5: Dark Resurrection as one of the two new characters, the other one being Lili, and has returned in every subsequent games. Dragunov is a member of the Spetsnaz (also known as the Russian Special Operatives) who have dubbed him "The White Angel of Death" because of his overwhelming fighting powers.
Prologue Text: A frozen land buried in dense sub arctic forests. While undergoing geological research in preparation for the development of natural resources, an anomalous object is discovered below the permafrost. The military quickly calls special forces into action and the entire area is completely sealed off. The mysterious object is then transferred under absolute secrecy to a research facility for further study. A month later, military headquarters receive an investigative report regarding the mysterious object and decides to order one of the men working at the dig on a clandestine mission. That man was Dragunov, a member of an elite special forces team who is feared in battlefronts throughout the world as The White Angel of Death. He acknowledges the mission with a silent nod and leaves for Japan.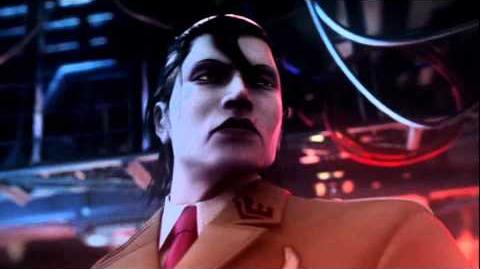 Ending Description: Scientists working for the Russian Government have Devil Jin inside a water tank. Dragunov gives them a signal to start. Activating the tank, electricity flows from the tank Devil Jin is in to a similar one in the opposite side of the room, filling the opposite tank with billions of bubbles. Devil Jin screams in pain. Two demonic glowing eyes can be seen in the tank on the opposite side of the room.
Prologue Text: Sergei Dragunov received orders from Russian Military Command to capture the organism known as the 'Devil' In pursuit of his mission, he successfully infiltrated The King of Iron Fist Tournament 5, but was unable to locate the organism. Russia was in complete disorder with rampant civil disturbances, all believed to be caused by the covert actions of Mishima Zaibatsu operatives. Commissioned to suppress national unrest, Dragunov spent quite some time fighting across the country. Without any hesitation to stop the Mishima Zaibatsu of intruding the Russian government, the leaders decided to overthrow their leader, Jin Kazama, and decided to put a bounty on his head before anything may go worst. He was eventually called back by the Russian military and ordered to infiltrate The King of Iron Fist Tournament 6 to crush the Mishima Zaibatsu. Dragunov embarked once again for Japan.
Ending Description: The Russian military have Azazel captured and Dragunov signals them to haul it in. Suddenly, a plane shows up and Raven jumps from it, extracting a magenta-colored orb out of Azazel. He then makes his escape back to the plane with the soldiers shooting at it. But Dragunov had slipped a charge on the plane and detonates it.
Ghost Data
Edit
TekkenGod
1st Dan
El Frito Bandit
3rd Dan
Other appearances
Edit
Dragunov appeared in the Tekken 2010 live action movie as a Russian fighter, he is portrayed by Anton Kasabov. In this movie, he is very expert in art of the spear or sōjutsu in Japanese language as he wields a straight-headed spear similar to Japanese spear called yari. Unfortunately for Dragunov, he was killed by Bryan Fury during the semi-finals of the tournament when Kazuya ordered the competitors to fight to the death.
Sergei Dragunov is featured as a playable character in Tekken Tag Tournament 2. His item move is Grenade Booster.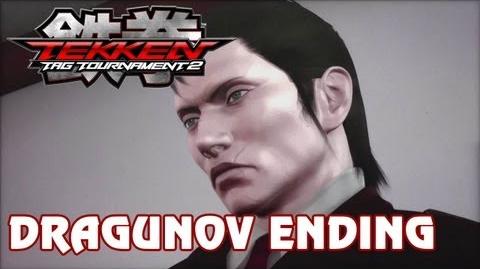 Ending Description: Dragunov is seen going into a room with a box from Doctor Bosconovitch. The box reveals the parts for assembling Alisa along with an instruction manual. Dragunov first puts Alisa's body on her legs, but just as he is about to put the head on the neck, the chest falls off. Dragunov decides to put Alisa's head on her hips for the moment while assembling the chainsaws for her arms. He attaches the wings to the chest only to be blown back for a minute. He later realizes that Alisa's head is stuck on her hips, and decides to refer to the manual once again after finding a button on the leg. He soon decides to push the button, which ends with an explosion in Dragunov's room.
Sergei Dragunov appears in Tekken Revolution as a playable character.
Character Releationships
Edit
General:
Although silent (save for grunts) in the series, an interview with one of the creators of the Russian character revealed that Dragunov is perfectly capable of speaking, just that he doesn't want to, and that he also enjoys singing outside of battle.      
Dragunov's name is based on the two Russian rifle designers; Sergei Simonov and Evgeny Dragunov, the latter of which designed the sniper rifle SVD Dragunov. His name may also be based on real life sambo practitioner, Sergei Kharitonov.
Dragunov is one of the two characters that work for the government rather than a private company. The other is Lei Wulong.
It is still currently unknown what the entity in Dragunov's Dark Resurrection ending is; speculation leads the entity to be Azazel, Devil Kazuya or the devil inside Jin, but paying particular attention to the ending section of the clip, is possible to note a similarity between its silhouette and Jinpachi's. This may mean that the model of Jinpachi was used for the entity, but not that it actually is Jinpachi in terms of storyline, since it was kept unrecognizable.
Dragunov's first sub-boss, encountered at Stage 4, is Raven. Raven divulges that he is onto his "organization" and actions. It is also highly speculated that Raven may have some ties to Dragunov and vice-versa, as both are members of elite units and are both sent to investigate the events in Tekken 5.
Before Dragunov fights Devil Jin during his Stage 8 encounter, he looks at a picture of his opponent. It appears to be a picture of Devil Jin in his complete transformation (see Devil Jin's Tekken 5 ending). Also, after Dragunov defeats him, Dragunov can be seen dragging him by the horns.
In the arcade beta-version of Tekken 6, Dragunov's name is spelled "Dragnov". It is also spelled "Dragnov" in an issue of Arcadia. This is a transcription error, and Dragunov's name is correctly spelled "Dragunov" in the international version of Tekken 6.
Dragunov has a new pre-fight animation. In it, the camera focuses on Dragunov's face as he approaches his opponent. Then, the camera lowers to show all of his body except his lower legs and feet. Then, the camera moves up to Dragunov's upper body as he goes into his fighting stance.
Dragunov has three new win animations:

His first is seen by pressing and holding "3+4" after winning a fight with Dragunov. For it, the opponent will be shown laying unconscious on the floor. Then, Dragunov will come in crawling from the right to the left, in front of his unconscious opponent.
His second win animation starts with Dragunov walking in a very casual and apparently joyful manner away from his opponent with his hands behind his back. His back is facing the screen. If the player listen very closely, Dragunov can be heard humming.
His third new animation, added in Bloodline Rebellion, starts with a closeup of Sergei's face with him apathetically looking at his watch and realizing he is late for something (for what he is late for is unknown), then he turns around and quickly walks away.

In the Scenario Campaign mode, Sergei Dragunov is a boss at the Container Terminal 7 stage.
In the Scenario Campaign, Dragunov usually remains silent, which is represented by ellipsis ("...") In Scenario Campaign, when the player encounter Dragunov with Raven or Devil Jin, he will speak ("Hah") for the first time. If the player is using Roger Jr., he will speak in thought with the use of parentheses. When played as him, he will speak to Alisa in the respective stages of Raven, Kazuya, Jin, Bruce, and Azazel. On the contrary, the few times Dragunov does speak, his comments are always short and emotionless.
Dragunov's first two opponents in Tekken 6's "Arena" mode are Eddy Gordo and Nina Williams.
Sergei Dragunov can be equipped with the SVD sniper rifle, but the player also need the Tactical Goggles to use it. To use the sniper, they must set Dragunov's pose into a lying pose and press down Left Punch + Right Punch at the same time.
Sergei Dragunov is the only character who can reverse low attacks. The command for that is d/f 1+2.
Sergei Dragunov can be customized to resemble the Joker from DC Comics' Batman comic series, Edward Scissorhands from Tim Burton's movie of the same name, M. Bison from Capcom's Street Fighter series, Scorpion or Sub-Zero from Midway's Mortal Kombat series or a hatless version of Dark Horse comic character The Mask.
Other: