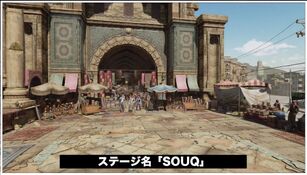 Souq is a stage in Tekken 7. The stage takes place in a Saudi Arabian marketplace, from which the new character Shaheen originates from. Various vendor stalls line the walls of the stage and slamming an opponent into the walls can sometimes cause things to fall off them.
Trivia
Ad blocker interference detected!
Wikia is a free-to-use site that makes money from advertising. We have a modified experience for viewers using ad blockers

Wikia is not accessible if you've made further modifications. Remove the custom ad blocker rule(s) and the page will load as expected.