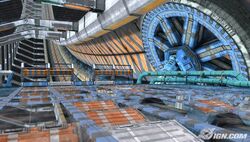 Space Colony is a stage in Tekken 5: Dark Resurrection corresponding to Final Frontier in Tekken 5. The differences between this stage and its Tekken 5 counterpart are that it is set at night and the wheels along with the outline of the area are now sky blue instead of yellow while there are only three. The bars on the barriers are still there and are the same color.
Background Music
The stage BGM is named "Center of Gravity".
Trivia
This is possibly Jack-5, Baek Doo San and Roger Jr.'s stage.
When the BGM is playing, a robot sound can be heard saying "I must fight".
In the PlayStation 3 version of Dark Resurrection, the background music is its Tekken 5 counterpart instead.
The picture of this stage in Dark Resurrection (at the vs. battle) only shows the outer space satelite instead of the inside part of the stage.