Steve Fox is a British boxer with blonde slicked-back hair and pale blue eyes. He has a large scar on his left arm. Most of his outfits feature Britain's color scheme (red, white and blue), especially his boxing trunks.
As a child known as NT01, Steve's hair is messier and is not slicked back, instead he has fringes parted on the left side. While he was being experimented on by Doctor Abel and taken care of by his guardian and Leo's mother, Emma Kliesen, the only outfit he wears is a patient uniform. In the portrait of him and Emma, Steve's fringes are on each side, resembling his mothers'.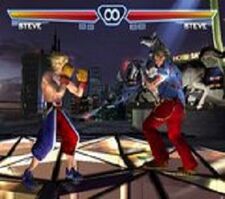 In Tekken 4, Steve Fox was introduced as a new character and was given two default outfits, just like all other characters.
Player 1 outfit
His Player 1 outfit consists of boxing trunks colored in the colors of the British flag, blue sneakers and yellow boxing gloves with red spiked wristbands.
Player 2 outfit
His Player 2 outfit consists of an unbuttoned Hawaiian shirt, red jeans, brown shoes, and white hand wraps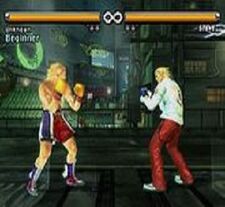 In Tekken 5, Steve's outfits are similar to his Tekken 4 outfits, but with minor alterations.
Player 1 outfit
The same as his Tekken 4 Player 1 outfit, except that the trunks are shorter and he now wears British colored boxing boots instead of blue sneakers, but his yellow boxing gloves remain the same.
In Dark Resurrection his outfit receives minor palette swap changes, with his yellow boxing gloves being red and his British colored boxing boots changed to black, red and white, but his trunks remain British colored.
Player 2 outfit
Steve's new P2 outfit is a white button shirt with British colored shield symbols on the chest, shoulders and back, and blue fingerless gloves with spikes on the knuckles. He keeps the red jeans from his Tekken 4 P2 outfit and now wears silver shoes with blue laces.
In Dark Resurrection his outfit receives minor palette swap changes, with his white shirt being recolored light blue, his blue gloves recolored red, and his red jeans recolored white, but his shoes remain silver.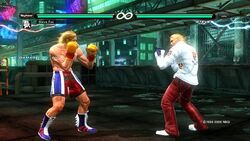 Player 1 outfit
(See Tekken 5 Player 1 outfit)
Player 2 outfit
(See Tekken 5 Player 2 outfit)
Player 1 outfit
(See Tekken 5 Player 2 outfit)
Player 2 outfit
(See Tekken 5: Dark Resurrection Player 2 outfit)
Player 1 outfit
(See Tekken 5 Player 1 outfit)
Swap Costume:
His swap costume is based on Charlie Nash, as his slicked back hair has a forelock bangs similar to Charlie's and he now wears eyeglasses. He only wears a lemon yellow flak jacket, green, red and white baggy cargo shorts and green boxing boots. He also regains his yellow boxing gloves from his primary outfit. This outfit is similar to his Tekken 4 primary outfit, but his British flag colored cargo shorts are recolored to green instead of royal blue and he wears a flak jacket as an addition.
Alternate Costume:
Steve wears a red and black long sleeved checkered robe with a belt with time buckle which is tucked into his robe, underneath is a white long sleeved button shirt with a pink bow on the collar, red and blue shorts, and a matching pair of boots, with a red boot on the right and a blue boot on the left. He also wears silver boxing gloves and a white and black magician hat on his head.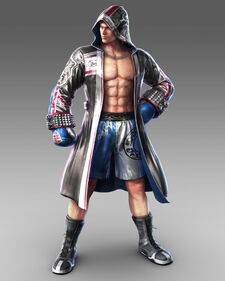 Player 1 outfit:
(See Tekken 5 Player 2 outfit)
In Tekken 7: Fated Retribution, Steve wears a new main outfit which is the same as his previous Player 1 primary outfit and the first time the design of his boxing trunks is opposed to the design of the British colored flag.
He wears a very long brown hooded robe with white outlines and red linings, a red single line on his hood with a lightning bolt design and cyan, white and sky blue interior. His boxing trunks are silver with large round black designs on each side, and his boxing boots are colored black and gray. United Kingdom flag logos are visible on the back of his hooded robe and his boxing gloves are now blue with large diamond-adorned wristbands. He also wears a chain necklace around his neck.
In both Nina and his endings, Steve regains his primary outfit from Tekken 5, but his white button shirt is replaced with a dark blue tank top and he no longer wears his blue fingerless gloves.
Ad blocker interference detected!
Wikia is a free-to-use site that makes money from advertising. We have a modified experience for viewers using ad blockers

Wikia is not accessible if you've made further modifications. Remove the custom ad blocker rule(s) and the page will load as expected.