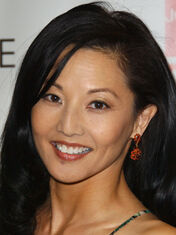 Tamlyn Tomita is a Japanese and Filipino American actress who portrayed Jun Kazama in the 2010 live-action Tekken film. Tomita's best known as Kumiko in Karate Kid: Part 2, Waverly Jong in The Joy Luck Club, Janet Tokada in The Day After Tomorrow, Mary Takata in Only The Brave and Mrs. Cheung in The Eye.
Biography
First acting roles
Born in Okinawa, Japan, actress Tamlyn Tomita performed on-stage in Los Angeles before making her film debut in The Karate Kid Part II in 1986 as Ralph Macchio's love interest, Kumiko. Soap opera appearances and supporting roles followed, as well as a few made-for-TV movies about Hiroshima.
In 1990, she gained some attention as Dennis Quaid's love interest in Alan Parker's WWII romance Come See the Paradise. In 1993, she was part of the excellent ensemble cast in the generation-gap drama The Joy Luck Club, based on the novel by Amy Tan.
Other roles
Other films include the Hawaiian-set romantic drama Picture Bride, the clever comedy drama Four Rooms, the horror thriller Killing Jar, and the independent relationship comedy Hundred Percent. On television, she found work in the sci-fi movie Babylon 5: The Gathering and landed reoccurring roles on The Burning Zone, JAG, and 24. She also can be seen in Greg Pak's little-seen but critically praised digital video project Robot Stories and Roland Emmerich's 2004 sci-fi disaster film The Day After Tomorrow.
Currently, she plays Noshiko Yukimura/Hashiko Yurimura in Teen Wolf.
Gallery
Trivia
Is of Filipino and Okinawan descent.
Had been voted the Nisei Week Queen in Los Angeles in 1984.
Had been majoring in history at UCLA before leaving for show business.
Was chosen by People magazine as one of the 50 Most Beautiful People in the World in 1991.
Ad blocker interference detected!
Wikia is a free-to-use site that makes money from advertising. We have a modified experience for viewers using ad blockers

Wikia is not accessible if you've made further modifications. Remove the custom ad blocker rule(s) and the page will load as expected.