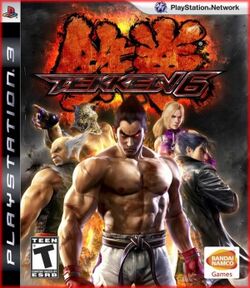 Developer: Namco
Publisher: Namco Bandai
Producer: Katsuhiro Harada
Platform: Arcade, PlayStation 3, Xbox 360
Release date: Novermber 26, 2007
Genre: Fighting
Mode: Single-player, multiplayer, online
Arcade system: Namco System 357
Tekken 6 (鉄拳6?) is a fighting game developed and published by Namco Bandai. It is the seventh main installment in the Tekken franchise. It was released in Japanese arcades on November 26, 2007 as the first game running on the PlayStation 3-based System 357 arcade board. The game received an update, subtitled Bloodline Rebellion, a year later. A home version based on the update was released for PlayStation 3 and Xbox 360 on October 27, 2009 and for PlayStation Portable on November 24, 2009.
Plot
See: Tekken 6: Bloodline Rebellion Story.
Gameplay
See: Tekken 6: Bloodline Rebellion Gameplay.
Characters
Returning characters
New characters
Bosses