Tekken Advance
Comments

0
1,112pages on
this wiki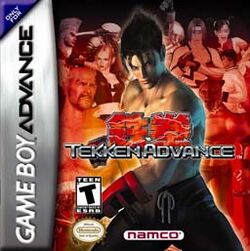 Developer:
Namco
Publisher: Namco
Producer:
Katsuhiro Harada
Platform: Gameboy Advance
Release date:
JPN December 21, 2001
NA January 28, 2002
EUR March 29, 2002
Genre: Fighting
Mode: Single-player, multiplayer
Tekken Advance is a Tekken spin off game for the Game Boy Advance. It shares some similar aspects to Tekken 3. It was the first Tekken game on a Nintendo platform. It was released at December 21, 2001 at Japan, January 28, 2002 North America, March 29, 2002 Europe.
The gameplay in Tekken Advance is similar to other in the other series but with the controls were slighlty changed to cope for the less controls with the A button being Kick B to punch. Left and Right Trigger for grapple moves. The game has a sidestep mechanic to give the illusion of 3-D graphics. It also includes a 3-way tag mode.
Characters
Edit