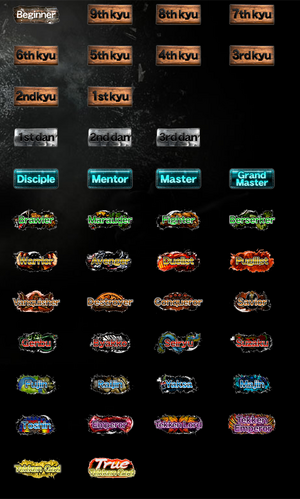 This is the list of new rankings in Tekken Tag Tournament 2 from lowest to highest (Japanese in brackets). The English names are not a direct translation of the Japanese names.
The Following Order
Brown
Beginner (入門生 nyūmonsei)
9th Kyu ~ 1st Kyu (九級~一級 Kyūkyū ~ Ikkyū)
Silver
1st Dan ~ 3rd Dan (初段~三段 Shodan ~ Sandan)
Light Blue
4th Dan - Disciple (高弟 Kōdai)
5th Dan - Mentor (師範代 Shihandai)
6th Dan - Master (免許皆伝 Menkyokaiden)
7th Dan - Grand Master (達人 Tatsujin)
Green
8th Dan - Brawler (餓狼 Garō)
9th Dan - Marauder (猛虎 Mōko)
10th Dan - Fighter (獅子 Shishi)
11th Dan - Berserker (飛龍 Hiryū)
Yellow
12th Dan - Warrior (剛拳 Kōken)
13th Dan - Avenger (狂拳 Kyōken) 
14th Dan -  Duelist (烈拳 Rekken)
15th Dan - Pugilist (闘拳 Tōken)
Orange
16th Dan - Vanquisher (修羅 Shura)
17th Dan - Destroyer (羅刹 Rasetsu)
18th Dan - Conqueror (羅漢 Rakan)
19th Dan - Savior (羅将 Rashō)
Red
20th Dan - Genbu (玄武 Genbu)
21st Dan - Byakko (白虎 Byakko)
22nd Dan - Seiryu (青龍 Seiryū)
23rd Dan - Suzaku (朱雀 Suzaku)
Blue
24th Dan - Fujin (風神 Fūjin)
25th Dan - Raijin (雷神 Raijin)
26th Dan - Yaksa (鬼神 Kishin)
27th Dan - Majin (魔神 Majin)
28th Dan - Toshin (闘神 Tōshin)
Purple
29th Dan - Emperor (拳王 Ken-ō)
30th Dan - Tekken Lord (鉄拳王 Tekken-ō)
31st Dan - Tekken Emperor (鉄拳天皇 Tekken Tennō)
Gold
32nd Dan - Tekken God (鉄拳神 Tekkenshin)
100th Dan - True Tekken God (真鉄拳神 Shintekkenjin)
Trivia
The ranking system in Tekken Tag Tournament 2 is heavily based on the dan (段 dan) and kyu (級 kyū) ranking systems used in Japanese martial arts. The dan system which is used in modern fine arts and martial arts was created by Kanō Jigorō.
Many of the Japanese ranks in this game, make references to East Asian mythology.
So far, only a handful of Korean players have True Tekken God ranks legitimately, as most players boost their way to this rank. Examples include Knee (Bruce, Devil Jin, Bryan, Kazuya, Steve, Dragunov, Jin, Hwoarang, Heihachi and Miguel), Chanel (Alisa, Jaycee) and Yeoni (Devil Jin, Lars). Former holders include Hao (Feng, Jin) and Secret (Bob, Bruce).
Ad blocker interference detected!
Wikia is a free-to-use site that makes money from advertising. We have a modified experience for viewers using ad blockers

Wikia is not accessible if you've made further modifications. Remove the custom ad blocker rule(s) and the page will load as expected.