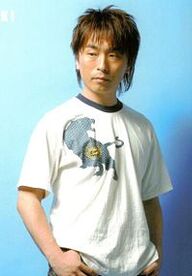 Tomokazu Seki is a Japanese voice actor who voiced Yoshimitsu since Tekken 4, and Bryan Fury in Street Fighter X Tekken.
Trivia
Has attended Anime Expo in Anaheim, California for two years running, in 2004 and 2005. Fans are working hard to have him return again for a future Expo.
Tomokazu Seki is capable of reciting lines from many of his characters on the spot (and doing their appropriate voices), much to the delight of the many fans he meets with at conventions. His most popular request is probably the "Yaaa-ree-hooo!" ("Yahoo!" in English) line exclaimed by Shuichi Shindo in the first episode of Gravitation.
Seki listed Kidô butôden G Gundam (Mobile Fighter G Gundam) as; "probably the most fun I've ever had voice acting" at Anime Expo 2005.
He is the voice of Sonic the Werehog in the Japanese version of Sonic Unleashed.
Ad blocker interference detected!
Wikia is a free-to-use site that makes money from advertising. We have a modified experience for viewers using ad blockers

Wikia is not accessible if you've made further modifications. Remove the custom ad blocker rule(s) and the page will load as expected.