True Ogre
Comment

1
1,112pages on
this wiki
True Ogre (also refered to as just Ogre) is a fictional character and villain in the Tekken series. He is the final boss of Tekken 3 and the sub-boss of Tekken Tag Tournament 2. He is the final canonical transformation of Ancient Ogre.
Description
Edit
Appearance
Edit
Ogre's second form stands not much taller than its first, but is hunched over to an extent. In this incarnation, he barely resembles a human, with a large frame, dark brown fur, a monstrous face, a tail, wings, horns, and a snake in place of a right arm, All of the jewelry Ogre wore in his previous form disappear, save for one leg armlet. Also, in this form, the area surrounding him will become pitch black (in Tekken 3), or extremely dark (in the arcade version of Tekken Tag Tournament).
Personality
Edit
He is more of a howling beast in this form as he loses his ability to speak and gradually roars, he simply seems to just attack and absorb those that come to confront him.
Fighting Style
Edit
True Ogre has the same moves as Ogre, but with the ability to fly and breath fire.
Ogre shows up and is defeated by Paul Phoenix. However, unknown to Paul, Ogre morphs into its true form and the tournament continues. Ogre eventually confronts Jin and they clash in battle. Jin emerges victorious and Ogre is defeated.
The plot details events that occur during the two month period between Tekken 4 and Tekken 5. After Jin leaves the Hon-Maru after the final battle in the King of Iron Fist Tournament 4, he hears rumours that his mother, Jun, is still alive at G Corporation. When Jin travels to their labs, he finds no trace of his mother, but instead discovers that G Corporation has either resurrected Ogre or found another one. In the ruins of an ancient temple beneath the labs, Jin battles Ogre once again. Ogre flees to a deeper part of the ruins with Jin in hot pursuit.
In the deeper ruins, Jin encounters a giant contraption that uses a large white orb to attack. After Jin destroys this, it is revealed that he has unwittingly broken the seal containing Ogre.
Jin battles True Ogre once again. Once it is defeated, it reveals yet another transformation. Despite its new advantages, Jin still triumphs, and destroys Ogre once and for all.
Other media
Edit
Ogre appears in his first form in the crossover fighting game Street Fighter X Tekken as a boss character counterpart to Street Fighter's Akuma. His second form is slightly refrenced in parts of Ogre's moveset and super art but shown only in flames and disappear quite quickly. A full reference of this form is in one of Ogre's DLC outfits without wings.
Ogre (in his second form) appear as a playable character, and also as a sub-boss, in Tekken Tag Tournament 2.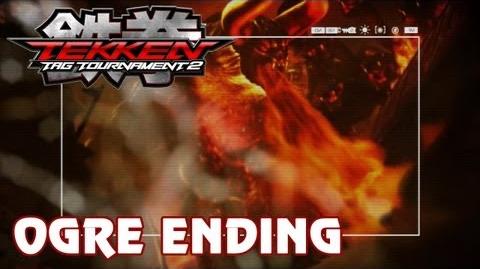 Ending: A journalist was recording a video about a city in chaos. He looked around but he didn't found the man behind all this destruction. When he look back, he see a gigantic monster with snakes on his left arm. It's True Ogre. The man who is behind all this destruction. The journalist is trying to survive. But True Ogre is ready to fire his flames from his mouth. The journalist succesfully escaped from the city and the camera was burned by True Ogre's flames.
Character Relationships
Edit
In Devil Within version, True Ogre's viper arm was removed.
In Tekken Tag Tournament 2, he has acquired a multiple vipers arm.
He is referenced in Street Fighter X Tekken as a DLC outfit for Ogre.
True Ogre is in Tekken 3, Tekken Tag Tournament and Tekken Tag Tournament 2 bigger than Kuma.
True Ogre resembles and is sometimes compared to Zekrom from the Pokemon series.
True Ogre is the tallest and heaviest playable character, standing at 9'6 tall 290cm and 1000 pounds 453kilo.