Last night i dreamed about Xiaoyu. When i was very tired after playing Tekken 6 on my PS3 using Xiaoyu in Arena Mode XP. Then i went to bed and i sleep. Something strange has just happened to my sleep. I dreamed about Xaoyu XD. Okay i'll explain the story using a dialogue between me and Tekken characters in my dream.
Note: This is only a dream that can become true or not. I wish it's become true hahah.. just kidding :P
Okay let's get started
When i visited Kyoto in Japan, i look around in an amusement park in kyoto. Then a young girl has appeared behind me and she said.
Xiaoyu: Um.. Hello
Me: Who are you..?
Xiaoyu: My name is Xiaoyu. Ling Xiaoyu.
Me: Ah yes i know you. You're from Tekken series right..? But whadayya want..?
Xiaoyu: Um.. Can i be your friend..?
Me: FRIEND..??!!! b-b-b-but i'm not from here i'm from Indonesia.
Xiaoyu: Well okay. See ya.. (Sadly)
Me: W-wait!
Xiaoyu: Huh..? What..?
Me: I-i-iiii- i can be your friend.
Xiaoyu: Really..?
Me: Of course why not.
Xiaoyu: Hurray :)
Me: By the way, where is your best friends (Alisa, Jin and Shin)?
Xiaoyu: They're not my friends again :(
Me: Why..?
Xiaoyu: Alisa: She was fixing his head after accidentally slapped by Panda. Jin: He was very bussy taking care of the Mishima Zaibatsu and every i met him and say "Hi Jin". Jin alaways insult me. Shin: He is killed by Heihachi.
Me: Okay i can be your friend. If you want to hang out with me, just come to my hotel or call me.
Xiaoyu: Would you like to play Tekken Tag Tournament 2 with me..?
Me: Are you serious...? But where..?
Xiaoyu: In My house. I have my own PS3 and i also have the Tekken Tag Tournament 2 Prologue.
Me: Sure :D
Xiaoyu: Okay let's go to my house.
Then Xiaoyu and Me rush to her house. and i saw Jinrei in there.
Jinrei: Welcome
Me: Wha..? are you Xiaoyu's father or....ahhh i know you You're Jinrei right.
Jinrei: Yes
Me: Nice to meet you.
Jinrei: Nice to meet you too. Oh by the way, do you want to drink some tea..?
Me: No thanks. I already drunk some mineral water in my hotel.
Xiaoyu: Okay let's go to my room.!
Me: (My arms are pulled by Xiaoyu so i screams in pain) W-wait aaah.
Xiaoyu: Here's my room.
Me: Nice room.
Xiaoyu: Ugh.. Enough talking let's turn the PS3 on.
Me: O o okay (This will be exciting.)
Xiaoyu: Something Wrong..?
Me: No nothing.
Xiaoyu: Okay so today we'll play the VS Cpu mode. I'll use myself and Alisa
Me: Can i use Jin and Kazuya..?
Xiaoyu: Of course because they're only the available characters for you.
Me: Okay.. Let's get started.
In the middle of fight, Alisa come.
Alisa: Hey my friend Xiaoyu how are you.
Xiaoyu: Alisa.. It's been a while after your head was accidentally slapped. I'm fine.
Alise: Oh by the way Who is this Guy..? Is he your boyfriend..?
Me: Boyfriend what..? I'm Xiaoyu's new friend. My name is ******** (I don't wanna you guys know my name)
Alisa: Ohh Hi! I'm Alisa. I'm a robot created by Boskonovitch.
Me: Nice to meet you.
Alisa: I have to go now. My head isn't completely repaired yet. See ya.!
Me & Xiaoyu: Bye
In the middle of fight, Jin come with angry.
Jin: (Crushing Xiaoyu's door) Xiao.. where has you been..?!
Me: Hey Relax maaan you're not in your own home. This is Xiaoyu's home.
Jin: Aaah Shut up. Is not your bussiness. I have to kill her. Because i found a hidden power from her body.
Xiaoyu: Eh... Powers what..? I'm not the member of mishima and of course i didn't have a cursed blood like the Devil Gene.
Me: If you want to kill her, kill me first!
Xiaoyu: Hey what are you doing, You can't fighting didn't you..?
Me: I can fight. If i try.
Jin: Alright Then Come on.!!
Me: (After punched by jin, i jump into Jin's forehead) I kick your face..!! Hiyaa (paw paw paw paw)
Jin: *Pant* *pant* you're really strong. And you know what that was only just kidding.
Me: Oh well sorry Jin.
Then i hear a clock rings "DIng dong ding dong".
Xiaoyu: Your time in here is over.
Me: Whadayya mean..? Do you mean i can't go to visit Kyoto..?
Xiaoyu: Don't get wrong. I mean your time in here is over. You have to go back to your hotel now.
Jin: Yea you must go back.
Me: Okay but tomorrow i'll visit your house again!
Xiaoyu: Visit what..? This isj ust a dream
Me: Wha...?!!!! NOOOOOOOOO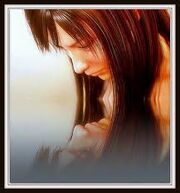 Then i woke up. Meh...
So thats all of my story. Hope you like and if my english was bad so sorry guys i'm a Indonesian not an American. so bye.
Ad blocker interference detected!
Wikia is a free-to-use site that makes money from advertising. We have a modified experience for viewers using ad blockers

Wikia is not accessible if you've made further modifications. Remove the custom ad blocker rule(s) and the page will load as expected.