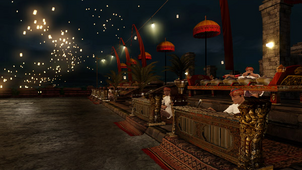 Wayang Kulit is a stage in Tekken Tag Tournament 2. The stage is in a shadow puppet performance, known as wayang kulit. The puppetry can be seen on one side of the stage, while around the other side's is a full Indonesian orchestra known as gamelan. There can also be floating lanterns and red medium light shades on the left.
Background Music
The stage BGM is called "Abyss of Time".
Gallery
Trivia
Wayang kulit refers to classical Indonesian shadow puppetry. The word wayang means shadow (or "performance" in modern usage) while kulit means skin, because the screen is traditionally made from animal hide.
The stage is set in Bali, as can be seen by the clothing and architecture.
Ad blocker interference detected!
Wikia is a free-to-use site that makes money from advertising. We have a modified experience for viewers using ad blockers

Wikia is not accessible if you've made further modifications. Remove the custom ad blocker rule(s) and the page will load as expected.