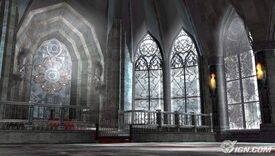 Winter Palace is a stage in Tekken 5: Dark Resurrection corresponding to Cathedral in Tekken 5. The differences between this stage and its Tekken 5 counterpart are that it is set in the daytime during winter and this is a castle with a heavenly theme instead of a Gothic cathedral. The unique thing about this particular stage is that snow appears to be falling inside as if it is mystic, but the glass ceiling could possibly be broken, enabling snow to fall inside. There are two statues of angels on opposite ends holding swords. On the middle of the stage, the fighters always stand near a red long carpet which can also be broken.
Background Music
The stage BGM is called "Snow Castle".
Trivia
This is possibly Devil Jin's stage.
Devil Jin is also fought here before fighting Jinpachi Mishima.

This is where Sergei Dragunov's Dark Resurrection interlude takes place with Devil Jin.

This stage later reappears in Tekken Tag Tournament 2 sharing the same name.

The TTT2 rendition of this stage also features a remix of the original stage BGM.
Ad blocker interference detected!
Wikia is a free-to-use site that makes money from advertising. We have a modified experience for viewers using ad blockers

Wikia is not accessible if you've made further modifications. Remove the custom ad blocker rule(s) and the page will load as expected.