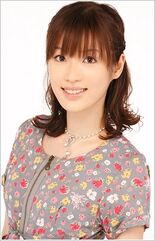 Yumi Hara (原 由実, Hara Yumi?) is a Japanese voice actress who voice Kazumi Mishima, as well as her counterpart Devil Kazumi, in Tekken 7.
Trivia
Hara is also the voice of another video game character also named Kazumi (who also wears a kimono) in the Senran Kagura, all girls series of action games.
Hara is also well-known as the voice of Takane Shijo from the Idolmaster series of video games also made by Namco.
Ad blocker interference detected!
Wikia is a free-to-use site that makes money from advertising. We have a modified experience for viewers using ad blockers

Wikia is not accessible if you've made further modifications. Remove the custom ad blocker rule(s) and the page will load as expected.