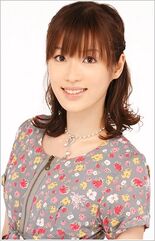 Yumi Hara (原 由実, Hara Yumi?) is a Japanese voice actress who voice Kazumi Mishima, as well as her counterpart Devil Kazumi, in Tekken 7.
Trivia
Hara is also the voice of another video game character also named Kazumi (who also wears a kimono) in the Senran Kagura, all girls series of action games.
Hara is also well-known as the voice of Takane Shijo from the Idolmaster series of video games also made by Namco.